5 Tips for People Who Work on Multiple Devices
by QArea Team on March 27, 2014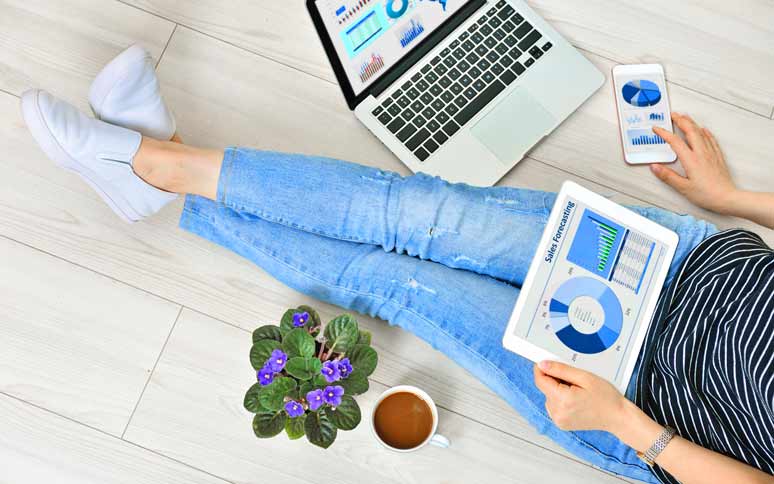 Reading Time:
2
minutes
It's not common to work through the night in the office to meet the deadline any more. Most employees use their home PC or business-issued laptop to finish the assignment at home.
However productive work on so multiple devices is hard, often getting you stranded with outdated work files and forcing you to learn a number of different applications.
Luckily, there are several simple steps to let small business owners and busy executives work across many devices more seamlessly.
Assume a Multiplatform Strategy
PCs and Macs keep form the computing environment backbone in business of any size. Of course, billions of smartphone and tablet shipments tell us a lot about the popularity of these devices as well. While smartphones are better for data reviewing than for long report writing, no one can deny that the gap is narrowing across devices. Then, it's obvious that a good multiplatform strategy should consider the BYOD realities and make you look at popular platforms like Android and iOS, too.
Identify Your Productive Apps
Your first step to an effective multiplatform strategy should be identifying the apps you use actually for work and whittling this list down to several most commonly utilized apps. Try doing this by observing your PC activities of a typical workday. Some of these must-have apps can already be available across both your PC and Mac as well as have inherent cloud support for keeping files in synchronization between devices. Among the common apps supporting multiple platforms are Microsoft Office, the Chrome browser and FileZilla. If you need some special app for your work QArea team can offer you iOS, Android and Microsoft development services.
Synchronize Data Via the Cloud
In order to cover all your bases while using multiple devices, use cloud storage for synced files storage. This will let you access your files anywhere – including public access terminals and your colleagues' machines – and reach for legacy apps which may not be part of cloud-sync capabilities. Due to the automatic synchronization of all file changes, this can also serve as your backup repository if the devices are lost or stolen, although an offline backup, of course, is preferable.
Sync Your Contacts, Calendars and Messaging
After syncing the files and installing your productivity apps, it's time to address collaboration. If done correctly, this will let you easily update and access your business-centric messaging, schedules and contacts across all devices. To make your choice easier, there are Google Apps  and Microsoft Exchange Server solutions standing above the others. They support most platforms and are incorporated in smartphones and tablets.
Keep Your Finger on the Pulse
Ultimately, working across multiple devices is in fact an ever-evolving process. Both form factors and important specifications like capabilities and battery life change. However, with thought and adaptation, you can take the BYOD strategy to upper levels no matter if you're using a Mac laptop, PC desktop, Android tablet or iPad Air.
Check with these 5 essential steps on your way to seamless cross-device work and be productive!