6 Things About iPhone Release That You Should Know!
by QArea Expert on September 19, 2016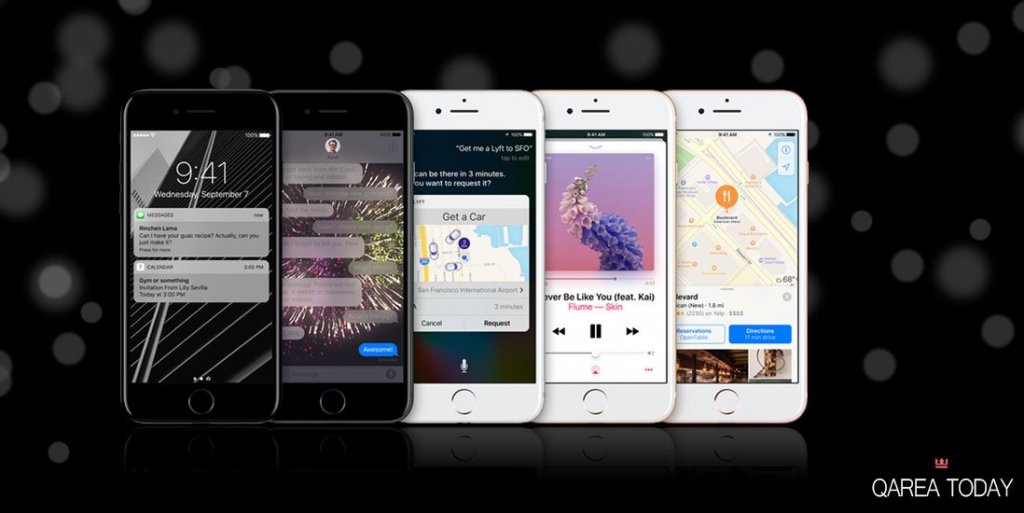 Reading Time:
7
minutes
While the internet is mumbling nervously about the lack of a headphone jack in iPhone 7, both casual users and developers are quite happy with an array of smaller announcements and features that iPhone 7 may bring to the table.
iOS 10, new Sierra, and a couple of mobile games that will make casuals happier – all these things may change the way we think about the next generation of iPhones.
But will it be better?
We do recognize that many users are questioning some design decisions made by the Apple team. Some believe that many solutions are worthless as they address issues that never bothered the audience.
Others assume that iPhone 7 lacks some features that we love. Besides the headphone jack, iPhone 7 will miss the now iconic "home" button.
However, despite minor criticism, we believe that iPhone is headed in the right direction. We would like this company to be less extravagant and strict in their proprietary policies, but in the end of the day, developers have received series of treats.
Cut budjet costs, assure appropriate estimations and insane quality of delivery with us!
Mario will be playable on iPhone 7
iPhone 7 will offer a new version of Mario presented by Shigeru Miyamoto himself to users. The announcement was met by heartily.
Mario Bros. is one of the longest running video game franchises and people love it. There is no wonder that Apple was pleased to announce that yet another big all-time video game hit is going to be iPhone exclusive at least for a short period of time.
The game is not your usual 2D platformer and presents a new spin on traditional for mobile devices runner games. Shigeru Miyamoto promised that users will feel comfortable playing this game with one hand which can be useful for those who spend hours in the Subway Surfer.
This game will not be an exclusive for iPhone 7, but it is a big selling point. Nintendo fans all over the world may choose the iPhone 7 just to support the game.
The audience of hardcore Mario Bros. fans is not the one to prioritize, but it is a good addition to Apple's marketing campaign.
The game will feature multiplayer, social interactions, and lots of fun with endless running events.
Additionally, Shigeru Miyamoto announced that Niantec will make a new version of Pokemon Go application that will run on Apple Watch. Now, this is a good announcement as new Apple Watch was announced as well and it caters to a wide audience including hikers and fitness geeks (with the addition of GPS navigation), divers (with full water resistance), and drivers.
These two games will surely attract a lot of casual gamers who enjoy simple mobile games with massive social experience. Both games have their own ways to connect you to people around the player.
This is the new road to iOS game development we will embrace shortly.
The favorite home button is gone
Get your UI and UX experts ready, the bells of alarm have rang!
A small circle at the bottom of front panel is an iconic feature of iPhone. This clicky little button actually makes UX much more seamless and satisfying.
The feeling when you press the button and something happens is an immensly satisfying thing on it's own.
However, Apple is getting rid of it. They substitute the button with a non-mechanical touchpad equipped with the Taptic Engine. This solution reminds us of MacBook trackpad and rightfully so. The same technology stands behind it.
Many users expressed their unhappiness with trackpad initially, but when everyone got used to it, we had to accept that trackpad was a great solution that may change the very way laptop manufacturers approach their design.
However, iPhone's home button is a feature that we not only used to, we love pressing this button. It feels good. When everything is based on gestures and somewhat unresponsive sensors, pressing buttons gives you the feeling that you can control your device at any given moment of time.
Apple engineers claim that their new button feels just like a normal mechanical button and will provide the same level of satisfaction to users. You will be able to customize the behavior of your button, enjoy a new type of feedback when using it, and get familiar with its functionality within seconds. We haven't yet tried this new button out, so let's just take engineer's words for truth.
Dual cameras
Is your photo app on point?
There are two versions of iPhone 7. One is 4.7 inch and another one is 5.5 inch. The latter comes with two rear cameras.
These two cameras will allow users to choose between two capturing methods that drastically differ from one another. You can take your pictures with wide-angle or prefer traditional telephoto lens.
Two different focal lengths open up a new array of opportunities for those who like to work with photo-editing and capturing software. For example, a fresh feature added to iPhone 7 is "software zoom" that basically allows you to zoom in using both cameras simultaneously. Two cameras can also make the background blurrier to increase the visual depth of the image. Both features will surely cater a wide audience. Artists and causal users will find new ways to express themselves.
Software received all-around improvements. Even the smaller device will get a brand new 12-mpx camera equipped with stronger flash and 11.8 lens. This wide-angle camera will provide a better field of view. Software was upgraded with a new image processor that is capable of learning boosting its capabilities in terms of autofocusing, fine tuning exposure, and making colors more articulate. Additionally, users will enjoy image stabilization and an array of other hardware improvements.
Dual cameras will greatly enhance the value of iPhone 7 for creators, youtubers, bloggers, users of social media, etc. The announcement was welcomed by the publicity and we are eager to see how users will rate double cameras when the device will hit the market.
The visuals got better
Using cameras to their fullest potential is impossible if you cannot actually see the results of your work right away. While Apple decided that the resolution is fine as it is and 750×1334 or 1080×1920 (for 4.7 and 5.5 inch versions respectively) is enough for users, engineers totally thought more about the quality of image.
The displays were upgraded and became 25% brighter than before. This is a very important addition.
When using your phone in the daylight, you will see the picture clearer and the photos you take will be easier to evaluate right away.
This is a pretty convenient improvement that will make us developers happier as we can focus on creating applications that cater to the audience of both professional and casual photographers.
Color management is leaned towards better reproduction. Colors will be more real with a wider color gamut. This will surely make you feel satisfied when browsing through recently taken photos.
Better color reproduction is the way to go, if your goal is to attract users who like taking selfies. Less blurriness, artifacts, and issues with showing users the results of their recent photo sessions will definitely make everyone love Instagram once more!
In other news, the displays are equipped with 3D touch pressure sensors that were initially introduced in S6. Users will be familiar with this functionality.
iOS 10 is coming out sooner than you think!
The update for iOS is scheduled for 13th of September this year. We all were trying out this new OS throughout the summer when it was in open beta. This new operating system will open up a lot of opportunities for us developers.
There are new interesting features that many users found quite useful. For example, Siri now transcribes voicemails efficiently and allows for a much more sophisticated image search. Siri in general received a bunch of new improvements that make it usable and reliable.
A whole set of new widgets and notifications was announced as well. This will make your workspace much fancier. At the same time, your MacBook will be now constantly connected to your smartphone.
Universal Clipboard is a brand new feature that enables fast copying and pasting text pieces and images from your phone to Mac.
Both Siri and iMessages became more open for developers and you can surely anticipate a plethora of new applications that will make messaging and using Siri more convenient.
Developers already have plans for this update and some enterprises will update their software and applications to new iOS 10 functionality.
The iPhone 7 is rather expensive
Your target audience will be packew with money though…
This is actually a huge understatement. The price of iPhone 7 is marginally higher than that of its predecessor. The price will go higher as the storage capacity of the device foes up.
You will be able to purchase a 32Gb version for $649 and 256Gb for $849. That's the range of prices for iPhone 7 4.7 inch. A bigger model will cost you a small fortune with the price ranging from $769 to $969.
This is quite expensive and many users will not be able to afford it.
Additionally, we have to remember that AirPods will cost $159. The full set of devices and accessories lined up with the announcement of iPhone 7 goes up close to $2000 including Apple Watch and some minor accessories.
Have these news inspired you for innovative iOS development?