7 Mistakes to Avoid When Choosing a CMS for Your Website
by QArea Team on February 27, 2014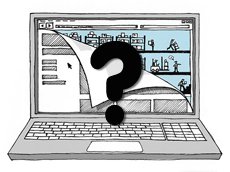 Reading Time:
3
minutes
Many of the problems that arise after deploying some CMS on the project are the result of poor planning and project management. Businesses often ignore the importance of choosing the right CMS for their projects and the lack of understanding of CMS issues might lead to serious troubles when the website is launched. Such problems like slow speed, not meeting the expectations, being hacked, no updates, late launching or not launching at all can turn out to be pitfalls of selecting the right CMS that meets your demands.
Below is a list of commonly made mistakes when choosing a CMS for your website project. In spite of being simple to resolve with a common sense approach, they are still frequently made just because of not focusing on these issues.
MISTAKE #1 – No clear understanding of the goals of the website
Choosing a CMS without specified business goals is a failure from the very beginning. You need to know for sure what problem your website has to solve and what exactly it has to do. Instead, businesses often rush and select a CMS even before identifying the needed functionality and management requirements. Before starting the work on the website you need to have clear answers to questions like 'why do I need this site?', 'who is its target audience?', 'what result am I expecting for?', 'what time and resources will I devote to this project?'.
MISTAKE #2 – Trying to get everything at once
Your initial expectations can probably be much wider than it is possible to do in established time with provided conditions. But instead of trying to implement everything it is better to make a step-by step plan for the enhancements, starting from the most vital features. After launching the minimum requirements you can gradually, one by one add all the bells and whistles you wish. It will not only make your website work consistently but will also help you to stay agile and progressive.
MISTAKE #3 – Being unfamiliar with content management issues
For businesses who have never experienced CMS the hardest challenge is to understand what is required from CMS. The questions you need to answer before choosing CMS are:
What features differentiate one CMS from another?
What limitations do they have that are crucial for me?
What problem is each of them solving the best?
What are the 'best practices' used in similar projects?
Answering them requires certain researching but will help you to take an informed decision.
MISTAKE #4 – Making things more complicated
One of the major mistakes is associating bigger, and more expensive with better. The number of offered features, add-ons and plug-ins of a CMS do not mean endless possibilities. There is also no correlation between cost and performance. Keeping CMS simple is most often enough to meet all your business demands.
MISTAKE #5 – One person for design and development
The tasks of designing and developing a CMS are always better to separate. It seems to be convenient if any web designer can help you with choosing and developing CMS, but it is a dangerous thing to do. And vice versa, a developer is not as good in usability issues as a professional designer.
MISTAKE #6 – Not testing in live environment before uploading to server
When your website is developed in local environment everything might seem all right and the only thing left is deployment to the live server. And when the day comes and everybody is waiting for the website, troubles may occur. For various reasons there might be problems with installing CMS or deploying the custom code on the live environment. In order to avoid such stresses in it is recommended to previously test CMS on the live server during the development phase.
MISTAKE #7 – Forgetting about website governance
After deploying the CMS a company might think that it is done and the web development process is complete. But what actually happens is a beginning of a long-term process of adding new features and functionality, upgrading and updating of all kinds. The on-going support is a especially necessary for big projects with high functionality.
All of the mistakes above are less of a problem and can easily be overcome with a thoughtful approach.
Check out our related articles:
Importance of Making Your Website Mobile
Why Do I Need A Website For My App?
How to Increase ROI from a Website? 
Guest Post: Redesigning Your Website?