Android L: U Don't Want to Miss It!
by QArea Expert on June 27, 2014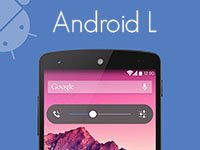 Reading Time:
2
minutes
Google is one of the few major companies capable of thinking outside the box, working on mistakes and keeping fans happy. And we have L as a result of these actions. I'm certain a new flow of the so called "holy wars" will burst out on pretty much all internet forums but from what was seen on the Developer Preview L is actually looking nice, smooth and worth the effort as well as the money you'll probably pay for new smartphones.
The platform has actually evolved since its predecessors. It is designed for all neat gadgets such as phones, tablets and even TVs. Here are some new features of Android L that may be interesting to mobile application developers:
The Material Design. A design language Google's top developers were working on. With its across-the-board approach it's a new esthetic multi-platform glide path to visualizing, interacting and motioning apps. Making them unique, standing out with their personality.
Advanced notifications. There's a new set of lock-screen notifications that allows you to access to content, actions and updates with a mere glance at the screen without any need of unlocking. You can manage, change, and personalize the info that is displayed on the lock-screen.
ATR – the Android Run Time is the systems default. It offers the ahead-of-time compilation, garbage collection that is fairly more efficient in comparison to the previous versions, some improved debugging and development features.
Multi-networking. Apps will be able to dynamically work with the system in order to scan for various available networks and connect to them automatically.
Advanced camera capabilities. The L has a new camera API. It can give you the ability to capture and process images. It also allows you to catch some raw sensor data and gives you control over some other parameters like time exposure, frame duration and ISO sensitivity.
Project Volta. Your app can now conserve power and run more efficiently due to APIs tools.
64-bit is supported! More additional address space and improved performance.
And, I believe, lots of new features will be developed by fall. The time when the Android L OS will be officially released.