Anticipating Droidcon Italy 2014
by QArea Team on February 4, 2014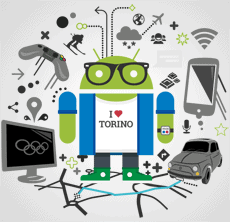 Reading Time:
< 1
minute
QArea team is going to participate at Droidcon 2014 on 6-7 February in Turin, Italy.
Android developers from our company expressed a great enthusiasm about the coming Droidcon 2014 event and decided to take part in this world wide movement in order to make the best of their Android practices in the future.
The Droidcon conference has been held repeatedly across the globe since 2009. It covers all Android issues, from mobiles, to TV, cars, gaming and much more. Developers have enjoyed Droidcon conferences in Berlin, Paris, Madrid, London, India and Brussels so far. This year Droidcon is held in Italy for the first time. The meetup will gather all Android enthusiasts at the Torino Incontra conference center right in Turin's heart.
Droidcon Italy is a two-day conference with speeches, talks and workshops which will touch upon all Android aspects such as development, UX, graphics, code, distribution, advertising etc. The conference will feature a lineup of 43 great speakers including the guests from Netherlands, Germany, the UK and the USA who will present their marvelous talks both in Italian and English.
QArea developers are absolutely excited about the oncoming Droidcon event where they are going to learn lots of new and useful things they are always so hungry for. Our participants are especially interested in talking to Android gurus and discussing some urgent issues with their fellows for more knowledge and insights in new Android development techniques.
We are sure Droidcon 2014 will provide us with a great professional experience!