B2B Web Development
by QArea Expert on April 1, 2011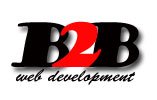 Reading Time:
2
minutes
Nowadays B2B web development services enjoy wide popularity and companies prefer to purchase products that may be configured rather than creating custom solution which mostly won't appear right from the beginning. As far as it is possible to try and test products through software product development and there are the feedbacks for the same are accessible to all for making a decision as to which product matches the business processes the best.
At the present competitive market it is important for us to obtain various B2B applications built appropriately. That is essential to observe after B2B application is designed and developed it supplies customers with all significant information to the buyer. It must assist in selling of product and ensure excellent shopping experience to clients.
Software development companies which offer B2B web development consider the necessities of the industries and comprehension of the psychology of the people utilizing the accurate development technology.  It comprises of both agile model and waterfall model.
The technologies web development company incorporates:
Visual Studio 2008
Porting Classic ASP/VB applications to .NET
WCF, WPF
LINQ, REST
Microsoft SQL Server, My SQL
Microsoft SQL Server Reporting
Visual Studio 2005
Porting Database
All this helps to increase supply chain effectiveness and get higher return on investment. Let's consider how B2B can be useful for your online business. The solutions B2B web development provides help the clients to achieve significant cost savings and to increase productivity. It will provide you reduction of the error rate through real time exchange and cycle times of entire data.
Any website of the company serves as the key to get access to the business and consequently play a significant role. First of all it should be user friendly, attractive with catchy video, images, clear audio and animations. Web programming includes a range of procedures such as planning, conceptualization, modelling and implementation of electronic media delivery through Internet in markup language which is proper for interpretation by web browser and is technically shown as Graphical User Interface (GUI).
In addition our Software Testing Company supplies integrated testing services which greatly help your company to develop high-quality software even at the first stages.