10 Ways to Build Links and Improve Your Ranking
by QArea Expert on May 16, 2013
Reading Time:
2
minutes
Striving to enhance a number of website visitors you should build backlinks. Below you will find ten TOP ways of doing it:
1. Guest Blogs
Posting your quality content along with the links for your website by another blogger allows building a strong brand and engaging visitors to your website.
2. Social Media Channels
It is not enough to have just good content. It must be followed up with social activity which can be done through various social media websites including Google+, Facebook and LinkedIn.
3. Leaving Comments
Another way to bring visitors to the website is to leave your comments visiting different blogs preferentially ones with high PR or those offering Do follow link.
4. Forum Websites
Participate in forums creating back links for your website in your signature. Despite the fact that these links are No follow ones forums are still an effective way to enhance your ranking.
5. Monitoring Competitor Link Building
It is useful to analyze the backlinks of your competitors. You can check from where they are getting links  visiting opensiteexplorer.org.
6. Submitting to Authority Directories
One more way to enhance the efficiency of link building efforts is to submit a blog or website to authority and popular directories such as RSS which you can choose on the open directory project DMOZ.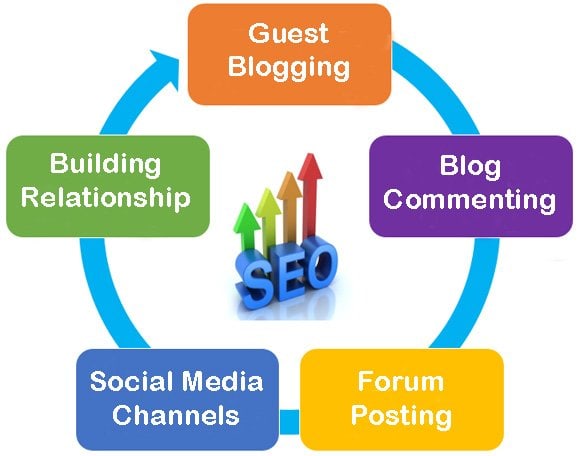 7. Internal Link Building
To create links between the pages of your website is a great link building method which enhances the engagement of your visitors who are searching the relevant data within your website itself.
8. Social Profile Link
Creating a profile of social media websites such as Pinterest and LinkedIn will provide you an opportunity to give Do Follow links from your profile page.
9. Make Free Offers
Offering the free products which are related to your niche is a great way to create quality and safe back links to your blog or website.
10. Building Relationship
Being in good relationships with webmasters and other bloggers who don't mind giving references to your posts and links to your website allows boosting the promotion of your website.

You may also like: