Clever Ways to Utilize Google Analytics
by QArea Team on April 30, 2013
Reading Time:
3
minutes
Google Analytics is the most popular website statistics service that was presented by Google. The web service offers detailed statistics about traffic of the website and its sources, sales and conversions measurements. Google Analytics has capabilities to track visitors from all sources, including social networks and search engines.
Google Analytics is no question great for tracking efficiency of PPC campaign and checking visits on your website, however that is only a tip of the iceberg, there is so much more to the product than just a usual pay per click management.
In this article we want to show you and take a closer look on effective uses of Google Analytics.
Track Visitor Activity
One of the most important questions that one can ask is if the users are engaged with their website. In order to find out how appealing your website is, you need to track down how long the visitors are staying on your site and with Google Analytics it is easy to do.
Here are directions on how to set this goal:
Click Admin section and find Goals tab
Goal type is Visit Duration
In the Goal Details section set greater than 3 min option
Find results in the Goal Overview section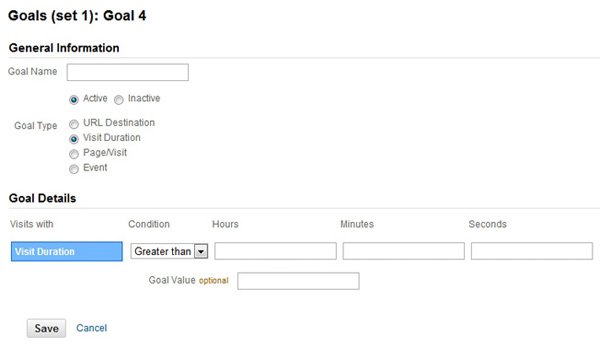 Track Site Search
The importance of tracking site search in Google Analytics lies in keywords that tells you what exactly visitors are looking for on your website. Such research will help you to learn more about needs and wants of your target market.
Here is how it can be done:
Navigate to website settings
Find Main Website Profile Information' box and click on Edit
Go to website search options and select Do Track Site Search
Data results located in View Reports, hit on Content and then Site Search
Outbound Links Tracking
It has always been a topical question: where do the visitors go after visiting your website? It is very important to know where the users go after landing on you site, and there is no shame to sniff around and track them down to find out their way of thinking.
Here is what you have to do: copy tracking code of outbound links that are located below your Google Analytics tracking code. Then, the clicked outbound links are being converted into onclick function after what you will be able to collect results in the event page.
Site Speed
You must understand that site speed is very important because Google does consider the website speed in your page rank. Site speed is simply important for user experience, no one likes slow loading. With Google Analytics you can track speed of the website.
Follow the next steps:
Go to View Reports
Then go to Content and click Site Speed
You need to optimize pages that take longer to load if they have high bounce rates. The data that you acquire with Google Analytics is surely very useful; you get an idea on how load speed is affecting conversion rates.
Goal Tracking
You should check your reports frequently and see how close you are to achieve your goals. Use data collected from Google Analytics to improve the site. Great feature here is to add annotations into given results to indicate what action that you have taken has improved your results. This can be done by clicking on the down arrow below the graph, and then hit Create New Annotation.
Check out our related articles:
10 Reasons Why Your SEO Strategy Needs Google+ 
It's Really That Big! Sides Of Google You Never Considered!
Google's Open-Source Mobile Toolkit Confronts Hard Competition