Creating Impressive Meta Descriptions in 8 Steps
by QArea Team on January 23, 2014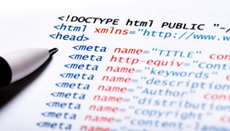 Reading Time:
3
minutes
There was a time when meta descriptions were taken really seriously. Now it is hard to imagine that much time and efforts can be taken to work on creating proper meta descriptions. As SEO gets more complicated they seem to be forgotten.
Although meta descriptions play no direct role in increasing page ranking they are important in providing high click-through rate and, therefore, traffic volume. And the better meta description is, the more traffic it drives. And not only is it important for traffic but also for presenting your business and your company in a good way.
Below are several characteristics meta descriptions should meet in order to drive more traffic to your page.
Not more than 155 characters
You should keep in this length otherwise your description will be cut short in the SERP. And this does not look impressive visually and your message will not be received fully.
Start with capturing attention
For people to stop their eyes on your website you should firstly grab their attention. The following methods work well for this goal:
Use superlatives. Don't be afraid to overestimate yourself and include pompous words instead of formal dry language.
Refer to famous names connected with your business. If you have famous clients including people and brands, mention them in your meta description.
Display your advantages over competitors. Any winnings, high positions in ratings or positive experts' reviews would mark you out among others.
Include numbers. They really draw attention and are easy to grasp. For instance, '50% off' would drive more visitors than 'great sales'.
Provide a solution
When searching for anything through web, people want to solve some definite problem. Even when shopping they try to find the best prices, sales, the quickest delivery etc. To draw users' attention the meta description must provide solution to some problem.
Only key facts
After reading the meta description people should get a complete understanding of what they can get by clicking on your page. Avoid loose and uncertain statements; provide users with some key facts concisely. In practice, it is not always so easy to single out the topmost things. They might refer to particular services, offers or products or to your company's experience and uniqueness. Think of the most important things people should know when seeing your link.
Articulate values
Reading your meta description people should clearly see what values they get from your services or propositions. In addition to the key facts your statement should include the explanation of personal advantages users will get if they visit your website.
Follow the style of your website in meta descriptions
Your site can be a blog or a shop, or contain some useful specific information, and in any case meta descriptions should reflect the tone of the site's content. The language of meta descriptions can be formal or informal, humorous or serious, can provide information (like prices and dates) or call to action.
Be welcoming
Regardless what your site is about, the tone of meta description has to be friendly and warm. People like to be welcomed.
End with a call to action
This is especially vital for websites offering products and services. Meta descriptions actually work the same as adverts. And as well as the adverts these short outlines should end with CTAs to induce people to actions you want them to do, such as buy something, view the page etc.
In today SEO services practice we hear more and more about the necessity to write content for people but not for search engines. It is a complete truth as for meta description as this is like a door to your house that makes the first impression before the user even enters your website.