How Did You Celebrate X-mas And New Year? Because Our Party Was Amazing!
by QArea Team on January 19, 2015
Winter holidays are the time of joy and magic. Christmas spirit has surrounded QArea's offices straight from the beginning of December and, surprisingly, is still here. You can still hear carols and see decorations our teams have loved the most. They will stick within our offices up to summer I suppose. Not all, but the most loved ones. It's kind of a tradition in QArea to save such decorations as long as possible. Nobody knows where the tradition came from, but it's here and we love it. A bit more about that…
There was a lot of laughter this year in the office as we had a little contest for the best Christmas tree decoration amongst our developers. I've got to say they possess enormous amounts of humor. Their ideas… It wasn't even human I suppose. Yet all the decorations were lovely and enjoyable. Drupal developers even came up with a little winter company mascot-robot-crab (?) made of a sea shell, wires, old keyboard, headsets and some other minor PC parts that were already out of use. The little feller is adorable.
Christmas is a time of giving
Our company had several experiences of giving joy this year from internal auctions and charity in favor of a local Child Hospital. QArea has been sharing with clients as well, offering free SEO audits and website testing to all who desired such services for free. The team has probably memorized the auction the most as it was something. Never in history were tons of clutter sold for that much money. Hope the kids are doing better now.
The party!
An amazing party was hosted as well to celebrate winter holidays.  We were grateful for all that has happened to us throughout this year, heard many inspirational speeches, shared cheer and joy, danced, and laughed. In one word all was: amazing! The Christmas tree was shining with colorful light, the room was illuminating satisfaction of last year's achievements and accomplishments. And there was a chocolate fountain!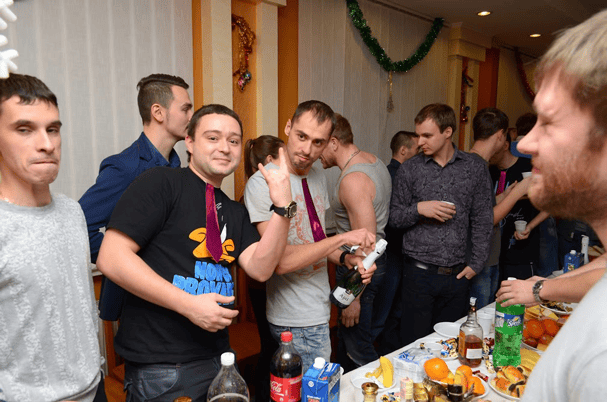 Rock this party!
Lovely marketers!
Testing this parties UI and Usability. Testers are always testers…
Those lovely ladies are responsible for our finances. Be nice to them!