IT vs. Crisis: Will Computer Technologies Survive Apocalypse?
by QArea Team on September 11, 2014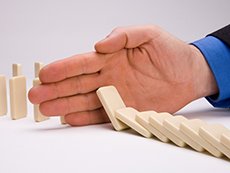 Reading Time:
5
minutes
The whole world is a witness of the strong political and economic shocks Ukraine has experienced during the last 9 months. This critical situation in the country undoubtedly could not but touch its IT industry as well, and many feared what outcome it might bring. The Ukrainian IT and Internet industry which had shown almost the most rapid growth in Europe in the previous year had all chances to be completely destroyed at the peak of civil protests a few weeks ago. Luckily, the new government has been timely formed and now we don't anticipate such serious risks to IT progress in Ukraine any more.
In view of these events, QArea experts decided to estimate the vitality of modern computer technologies by exploring the situation in the IT industry in terms of severe political and economic crisis.
Most Lively IT Trends Which Survived Protests in Ukraine
Ukrainian civil protests caused hard times for IT, but they also showed which IT trends are the most resistant to disorders in the country. Here are they.
Today every second mobile user has a smartphone. Apart from personal uses, these devices are getting increasingly utilized at the work places as well. Smartphones help their owners be more productive and have even brought forth the so-called BYOD trend suggesting that employees use their own devices at work. The Maidan events has shown the popularity level of this trend in Ukraine, too, as the protesters kept communicating and even working out of their offices.
Today it's difficult to find a person who doesn't use social networks. This is the trend business cannot ignore any more: over 60% of companies nowadays use at least one social platform for communication and information exchange among their employees. Ukraine is not an exception, too. The political activists regularly shared information about free Wi-Fi sites, posted useful maps, communicated a lot and called on everybody to join them.
The research shows that over 80% of small and medium enterprises in Ukraine already use different cloud services. As the cloud offers virtually infinite business resources of any size for reasonable costs, its usage is sure to spread even more. When a number of information resources during the Maidan events were attacked, they immediately decided to move to the cloud. It gave them protection from possible cyber aggression in future and additional business security. Many think it a significant advantage of the cloud that data is stored outside the country what enables Ukrainian businesses to keep their data in Europe, for example.
With increasing volumes of information entering the web, volumes of data to be analyzed also expand. Though the trend of Big Data is only starting off in Ukraine, there are already companies with great chances to build a dynamic business in this direction.
Core Principles IT Management Is Following to Survive Economic Crisis
Not to say about the overall situation in industry, at the time of economic crisis the team spirits decline and productivity suffers, too. QArea found out how IT managers try to deal with these challenges. Here are their 4 starting points.
Understanding team's value
First of all IT managers try to raise their team's self-esteem. They say IT professionals very often underestimate their profession saying: 'I'm just an IT person.' rather than accurately understanding the value of their work. Instead, when IT experiences hard times, they should be made proud for their great contribution in company's progress and future success.
Raising team's confidence
To effectively satisfy customer needs and update their products and services, IT companies need to have an internal stability and confidence. Since IT department is as important for company's health as any other department, the company's business success is defined by the productive and positive attitude of its IT specialists, too.
Accepting the uniqueness of each team member
Executive director may say that IT employees are interchangeable and all-purpose with no internal differentiation, but actually IT skills are unique and fairly specialized which is very important to realize for every IT worker in time of economic crisis.
Just like any other activity deserving attention, IT management is an art in its own way. The rotation of IT staff causes the gradual loss of knowledge and replacement of complex knowledge with mechanic operations, so keeping together an IT team which is able to produce masterpieces requires more than just pragmatic perception.
Lessons Learned by IT Companies from Economic Depression
In search of useful experience, QArea also checked in with different IT companies which had survived the national downturn and told how the harsh time has influenced IT business and which challenges it has posed. Here are some of them.
IT service providers treated these times as a chance to change business models and the way of hiring and to transform tech-driven structures to more verticalized.
Companies evolved from pricing full-time employees to pricing outcomes.
The whole sector has become more resilient.
During the depression period lots of innovation occurred, some of them driven by the customers who tried to transform themselves.
Despite the increased automation challenge, cloud computing has enlarged IT business revenues.
Companies outsource more.
Companies started to provide their services at customer's site more frequently.
IT businesses should work harder to deliver their value proposition.
IT service providers should get more business-centered than technology-centered.
As IT is one of the most stable industry today and rather immune to economic depression, the graduates of higher education establishments should be more industry-ready.
During the politically unstable situation it's increasingly important to meet security and intellectual property issues in IT.
IT businesses in undeveloped countries should strive to position their value proposition better and let the worldwide society know they are part of IT solutions rather than the problem.
Outsourcing as an Alternative and Its Advantages over Crisis
As appeared, all companies unanimously accept that the best working model for IT business in conditions of economic or political breakdown is outsourcing. The winning point of this model cannot be disregarded since outsourced services provide companies with 4 sure advantages given below.
In time of crisis the issue of optimizing resource utilization is even more urgent. It's especially applicable to small and medium business which is the most sensitive to instability in the country. In this case outsourcing will be the best choice as it provides almost unlimited resource leverages.
With this model it's possible to consult with the specialist at any place and quickly solve your problems remotely with different administration tools. If there is a good network connection, the outsourcing company's specialist can reach you as easy as your own staff.
Outsourcing company's employees tend to care less about the issues not directly connected with their professional activity and therefore they are less aware of this information's value. Instead, outsourcers concentrate on customer data security more and sign the document about the non-disclosure of customer commercial confidentiality just like other IT service providers.
Implementing modern technologies is a must for both the in-house system administrator and the external outsourcing company. The difference is the outsourcing company has more resources to do this than one system administrator in most cases by means of involving at least two specialists who ensure the non-stop operation of the system.
Now you know that IT efforts will survive any crisis as there are always alternatives and new ways for progress.