Making the Right Choice of Mobile Device
by QArea Expert on May 3, 2013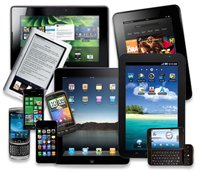 Reading Time:
2
minutes
Today mobile devices have become an integral part of our daily life. With the advent of advanced technology mobile devices have turned from simple tools for communication to full multimedia device. Nowadays in the market there is a wide range of various mobile devices from smartphones to netbooks and tablet computers with capabilities and features improving efficiency and productivity of the workforce.
If you are a professional and going to use a mobile device for business purposes, then choosing the device you should focus on your work needs, on the ability of your company's IT department to support it and of course taking into consideration personal preference.
Before opting for a certain device determine which group of professionals you belong to.
First type of professionals includes those who make short one-day trips but still do not want to lose time during them. The perfect decision for such employees is to have a smartphone. It will allow you checking email box and taking part in conference calls as well as gaining access to internet and corporate networks. But if you need to write long e-mails in this case you will definitely feel annoyance having at your disposal small screen and keyboard limiting both effectiveness and speed. So a better choice would be to have a smartphone-tablet hybrid providing PC-like performance or a tablet device.
"Travelers", business professionals who are always on the go often have to create and edit various presentations and documents, use business apps while they are in the business trip. All this is possible with light laptops and tablets due to their rather large screens.
Today striving to reduce their costs, motivate employees and increase their productivity many companies adopt telecommuting programs. Despite the fact that tablets and smartphones are quite popular today, notebook PCs and laptops are still the best devices for employees working from home thanks to their improved storage capacity and enhanced processing speed.
Mobile technologies are the way to get more work done. But to choose the proper mobile device is only half the work. Coverage and connection are often as significant as the choice itself. Traveling employees need secure coverage every place they visit in order to do the job anywhere no matter which device has been chosen.