QArea visits Mobile CONTENT – 2007
by QArea Team on July 5, 2007
Reading Time:
2
minutes
On June 26-27, 2007 the Renaissance Moscow Hotel became the meeting spot for more than 800 participants who visited the annual international business forum «Mobile CONTENT – 2007», the meeting of the industry leaders held for the third year in sequence. This year event was also first visited by the representatives of QArea. Cellular operators, content developers and aggregators, service providers, companies of media and entertainment industries, banking and retailing sectors participated in this major cross industrial event which was filled with lots of informative reports, vivid examples, interactive panel discussions and networking.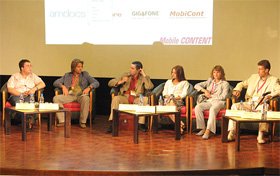 The first day opened with multisectional Conference with more than 40 experts and consultants presenting their reports in front of numerous audience. The key topics included:
Strategies and tendencies of the Mobile Content industry development
Interaction of the market players – in search of the "real" profit
Mobile entertaining content: what users are ready to pay for?
How to convert content to money?
Mobile interaction, marketing and advertisement
Mobile devices: content available for each user
Technologies and platforms for the Mobile Content industry
Within the Conference the participants had a chance to discuss all main issues and development trends in mobile content industry. 5 panel discussions with top managers of the leading operators, aggregators and content providers gave the event delegates an opportunity to ask the most relevant questions, hear expert opinions, discuss ways of interaction and development of the industry.
During the first event day QArea representatives had a chance to learn about CPA partnership program, opportunities of fast realization of mobile services, about J-Box – the solution for creation and management of mobile communities as well as take part in the panel discussion «Strategies and tendencies of the Mobile Content industry development». Besides, they participated in the plenary meeting «Interaction of the market players – in search of the "real" profit», watched mobile TV test versions and tested Entis Fantasy II, the next release of the first multiplayer online game launched in CIS. The next day proceeded with the discussion of such topics as mobile advertising, mobile content by subscription, mobile e-mail and effective development of client-server applications.
Check out our related articles:
QArea Presented Solutions For Mobile Terminals At Momo Conference In May
QArea .net Experts At Windows Marketplace Conference
We Visit The Iii Mobile Vas Conference! Will You Go With Us?
QArea Developers Attended The Agile 2011 Conference
QArea Specialists Enhance Their Skills At The Sharepoint Technology Conference
QArea Team Visited The Javazone Conference In Oslo
QArea Visited Opensuse 2013 Conference To Gain The Best Experience!
The PHP Uk Conference Invites Developers For Annual Event In London