Release Of The BlackBerry PlayBook Tablet
by QArea Expert on May 12, 2011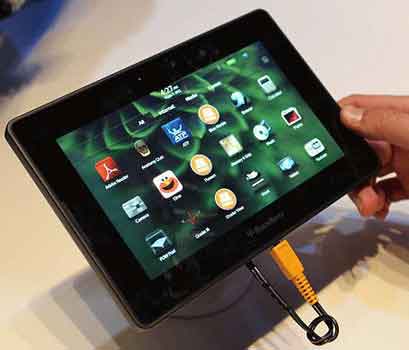 Reading Time:
3
minutes
Research In Motion owing to the association with the BlackBerry brand will attract businesspeople with BlackBerry PlayBook, but it lacks a lot of corporate must-haves, as for instance 3G wireless data connectivity and email. Actually, it seems to be as it was forced to market. The PlayBook has rubberized surface and a silky feel to it, while the most tablets use aluminium or the naked plastic. As for a 7-in. tablet the and at 5.1 by 7.6 by 0.4 in and 15 oz. weight the device feels chunky, it is thinner but 2 oz. weight heavier than the Samsung Galaxy Tab 7-in.
If to compare to the 10-in. displays on Motorola's Xoom and Apple's iPad 2 the BlackBerry PlayBook feels cramped. But it is still reciprocal, boasts 1024 by 600-pixel resolution and supports multifinger gestures.
As the bezel of the screen is touch-sensitive, the PlayBook may perform things that the others can't. For instance, you may swipe finger up, down or side to side on the frame in order to open application menus, move between applications or go to the home page. The only buttons that are on the top are volume, a play/pause and power button.
Inside data
A 1-CHz Texas Instruments OMAP 4430 dual-core processor
1 GB of RAM (is twice to what Galaxy Tab offers and matches the memory of the iPad 2)
Available in 3 models: 16 GB ($499), 32 GB($599) and 64 GB ($699)
3 megapixel front-facing camera
5 megapixel rear-facing camera
The PlayBook lacks a microSD card slot for adding storage as well as iPad.
The PlayBook, rather than Google's Android or Apple's iOS platform, is based on QNX Neutrin software. The operating system can't be found fault with on performance as it didn't lag and may freely run a few programs at once. In contrast to the iPad, the BlackBerry PlayBook possesses a Flash 10.1 player. It easily worked with YouTube and some online games. The device also could play music while employing the included Acrobat reader and calculator.
What about applications?
Surprisingly but the PlayBook comes without key apps: an address book, an email client and a calendar are typically usual fare for tablets. You may utilize a Web email service as an alternative with the PlayBook's browser.
The one of the reasons it arrives so ill-equipped is that you might be able to wirelessly tether the tablet to a BlackBerry smartphone via BlackBerry Bridge software.
Apparently, you may check your schedule and email on your mobile phone.
The PlayBook has to be shipped without the capability to tether to AT&T phones, unfortunately.
If to speak of software, at last reckoning there are 27, 000 programs available at RIM's App World. It also lacks some leading apps as for example a Skype client. Moreover the majority of applications that are at App World have been designed for BlackBerry smartphones.
While the great selling point of BlackBerry phones lies in offering the capability to work anywhere, the PlayBook tablet disillusions as it can't tap into a 3G and 4G mobile info network on its own. By the way RIM has promised to add Verizon (LTE), AT&T (HSPA+) and Sprint (WiMax) network connectivity by the summer.
The system arrives with an AC adapter and a USB, and charging dock is for sale by RIM for $70.