Several Privacy Tips For Your Google And Facebook Accounts
by QArea Expert on January 31, 2014
Reading Time:
2
minutes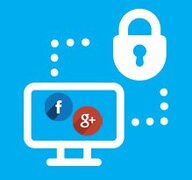 Digital privacy is a hot topic nowadays. Google, Facebook, Dropbox and other services make our data available from anywhere. It means that a great amount of our information is kept in the cloud and on servers far away, in such a way this information is not truly ours. Convenience we get from new technologies comes along with loss of control and security worries at the same time.
Below are several simple precautions that can help you manage the privacy of information you keep online. These tips are not a must to follow but can be useful if you want to minimize the amount of your personal data stored in the cloud.
Google
Google with all the whole of its services has a great amount of information about us on its disposal. Search history and visited sites in Chrome, location data from Android and Maps, Google Play purchases, Google Drive data etc.
Google devotes much attention to security issues, to its credit. At the same time, it makes heavy in-house use of your data. To reduce Google's collection of your data in browser you can use incognito mode that does not track cookies or turn off your search history both in desktop and mobile devices. You can look through your Google privacy settings and disable the features you don't need. You can use some product of web application development for it.
Another way is to switch to more private alternatives to some of Google services. If you use Google Docs and do not need all of its online features, you can replace it with Libre Office suite or others. You can do the same with Picasa.
In case you want to stay completely unknown to Google, the only option is deleting your account. But for many of us it can only bring more losses than benefits.
Facebook
No company knows more about your social connections than Facebook. And the same as with Google, many people can hardly shut Facebook out of their lives. As Facebook has questionable user data policy, below are some tips to minimize the online privacy risks:
Look through the default settings to know what is for public on your page;
Pay attention to your 'friends of friends' visibility options;
Mind your 'likes';
Don't add extra information to your profiles like events or places you've been to;
Turn off external search-engine visibility;
Check the third-party apps linked to your account, you can be unaware of them and some of them might be viruses and use your  images;
Use 'for your eyes only' option for some of your profile data.
All the others
Apart from your major accounts, remember all those random accounts you've created by connecting to social networks. The list of services connected to your Facebook, Google, Twitter accounts can be modified in your account settings. Remove access permissions you do not need.
As for the cloud services such as Dropbox and SkyDrive, most of them encrypt your data on their services. But in most cases they control encryption keys themselves. You can manually encrypt your data using special tools.