The Skype Is Down! Long Live The Skype?..
by QArea Expert on September 21, 2015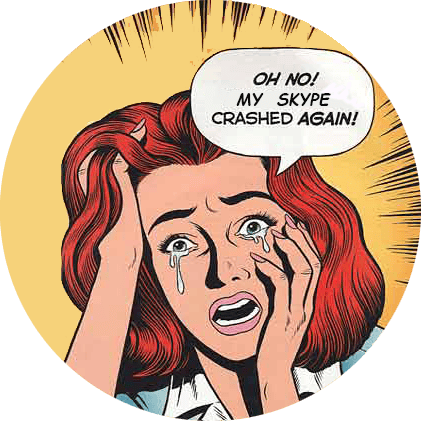 Reading Time:
2
minutes
This Monday, September 21, 2015 users all over the world faced yet another loud skype defect. #Skype is now trending hot in Twitter, but, well, not in a good way. The feed is flooded with "it's down" messages and cheesy Microsoft jokes. And, apparently, for a good reason. Skype works in a really strange manner all over Russia, Ukraine, Great Britain, USA, Canada, Romania, Indonesia and numerous other countries.
What's wrong?
People are experiencing issues with their status. They are not seen as online. When you login to your Skype account you are simply amazed with how there's no one there, but you still got a ton of messages. Despite this status flaw seems harmless enough as, well, you can't see a person's status but you can still chat, right?
Well, offline users simply cannot start or take part in calls, video chats or some conferences. Group chats may or may not work as well. Considering Skype is mostly used for business-related communications this compromise on functionality is intolerable and unacceptable.
But there's still the web version of Skype, one might say. That is, in fact, true, however it quickly got overloaded with traffic and is now mostly down-dead in several geographic regions as well.
What can be done?
Skype team has already reported that they are fully aware of the situation and are currently working on a hot fox. Their solution should be delivered ASAP. As for now, they are offering us to use the web version of Skype for our needs. Nonetheless, as I have mentioned before, it is still a gamble as Skype for web is currently overcrowded. Well, it's worth a shot and is still better than nothing, right?
My second advice would be to search for alternatives to Skype as things were going quite weird with this messenger lately. Too many defects, bugs, glitches and crashes took place over the last couple of month. Perhaps things will improve shortly. I know I hope so, but I'm not counting on it. What about you?