Tips for Web Designers on How to Draft a Contract
by QArea Expert on February 14, 2013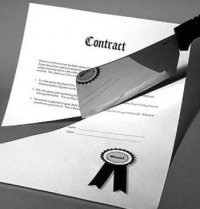 Reading Time:
2
minutes
Web designing is a good career option for all. A creative hand is definitely a plus but nevertheless people with ordinary skills can also be experts. There are many companies to recruit web designers, but some people still want to be freelancers. So standing on your own feet, it's necessary to understand the importance of the contract. Below are 8 tips on how to write a good contract:
Know exactly the need of your client.
There are two basic website types ― Dynamic and Static.
Only some HTML tags are used in static websites. Complex codes of PHP, ColdFusion and Database are not used there.
Flash, JavaScript and such languages like PHP, ASP.net etc. and database are used in dynamic sites. Specify what your client actually wants.
Your work should be specified.
Clarify everything you should develop, for example, number of pages, graphics, scripts and programs.
It will make your work more specific and will help you not to waste time and efforts.
The dates should be agreed.
Contract should contain all the dates (including but not limited to project starting and finishing date, client reporting date, launching date).
This is necessary to make you serious throughout the project.
Mention "SEO" in the contract.
Attend special attention of your clients to SEO as a part of your website development.
Build search engine friendly pages.
It should be mentioned in the contract if the client wants SEO works to be dedicated or not.
The price structure should be written clearly.
Announce the client the exact price of the project.
Make sure that you know the exact project cost.
You should not work for free.
Never work for free.
Beginners often think that working for free is a good marketing ploy, but it is not actually so because clients may treat you as inexperienced novice.
Thus, even if the employer is your friend charge him a minimum cost.
Include credits for your effort and the copyright owner.
Mention the name of copyright owner on the paper.
Credits for all your page contents should be given to the concerned person.
Talk over which credits you should get, why and where you should get them.
Their initials should be mentioned on the contract paper.
You should be sure that the contract is signed by you and your client in good order.