Top Handy New Features in iOS 7 That You Might Not Have Even Known Existed
by QArea Expert on October 16, 2013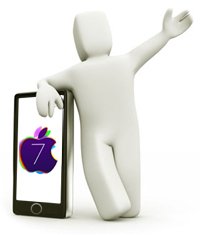 Reading Time:
2
minutes
Apple released new OS, iOS 7 and it brought many feedbacks from users, both positive and negative. Some were saying that it is much better now; the others were on conservative side and confessed that they do not like the new iOS 7 and it confuses them a lot. The range of negative and positive outlooks made it really hard to tell who is right or who is wrong. It is indeed the most controversial update that was ever made by Apple. Though it brought lots of new features that enhanced our life while using iOS 7. Luckily, the positive feedbacks are in the majority and many people agree that the new features can significantly ease the usage of a new-updated iOS 7.

There are several features that you might probably haven't experienced or even seen. The following features are easy to apply and they can color your experience with iOS 7:
Update your apps automatically in iOS 7
Share your files with the help of AirDrop
Male variant of Siri's voice
Use iOS 7's Activation Lock feature to save your phone from thieves once you lost it
Use new text size adjustment tool, a slider to change the text size.
Check the time of each sent message just swiping your finger from right to left
Near me feature lets you to find out the iOS apps that are popular in your neighborhood using App store.
Play More Like This and Never Play This Song features allow you to choose between favorite and not songs.
Also there are certain apps that will improve your usage of iOS 7:
instacast (podcast manager, chargeable);
reeder (feed manager, chargeable);
clear ( a to-do list, easy but chargeable app);
drafts ( productive but chargeable app);
calendars 5 (convenient but chargeable calendar);
mailbox (free mobile client app);
twitterriffic ( chargeable twitter iOS7 client).
One problem the users face when using the great amount of new colorful features of new iOS is that they take battery life. This also happens because of hidden settings that are hidden behind the numerous menus. There are certain features that you might want to change in order to prolong the battery life.
Thus, if you want to make more out of your battery, then change the following features:
spotlight: don't let your spotlight to drain your battery by indexing a new data;
automatic updates: though it's quite a time-saver, it is also an absolute battery-killer;
location-based apps: another killer of your battery;
refreshing of background apps: the refreshment of the apps steals life from your battery.
In case if you want to get your own application QArea experts can provide you with high quality iOS software development services.