Worldwide Software Development Outsourcing Rates You Need
by QArea Team on October 24, 2017
We know you are planning a new project that is going to become a breakthrough on a tech market. Business analysis is ready, as well as technical one. Finally, it's time to think about a team of dedicated developers and consider software development outsourcing rates. At this point, you have a couple of choices which can lead you to totally different outcomes. Before you jump into any decisions, we want to let you have a quick look at the research we did specially for this case. Now, let's talk about these options and have a look at the cost of developers belonging to various locations.
Companies which consider outsourcing software development as the best solution to turn the idea into reality have a choice to outsource:
onshore (to the country of your location);

nearshore (to the country which is close by or shares a border);

offshore (to the far-distance country, usually overseas)
While making a decision, these variants have to be smartly considered in terms of the initial goal, because the price varies drastically. For example, according to Glassdoor, middle Python developer earns nearly $100k yearly in the USA, while in Poland professionals with the same type of qualification may be paid at the rate of only $18k per year. These days numerous companies revise the budget they spend on tech services. You may be surprised, but even those ones, who can be considered very successful and profitable, opt out for outsourcing software development to the nearshore or offshore locations. It happens not only for the sake of cutting down costs but also because nearshore and offshore dedicated teams have proven the ability to develop high-end products.
Now let's look at the example of outsourcing software development cost in action. For instance, you need the code to be developed within 500 hours, for which you will need at least 5 middle-qualified programmers, who have to be paid hourly. Taxes, bonuses, training and travel cost has to be considered as well. The estimated cost will depend on the type of outsourcing you choose because exactly location defines the price for the service. The table below will help you to better visualize this example.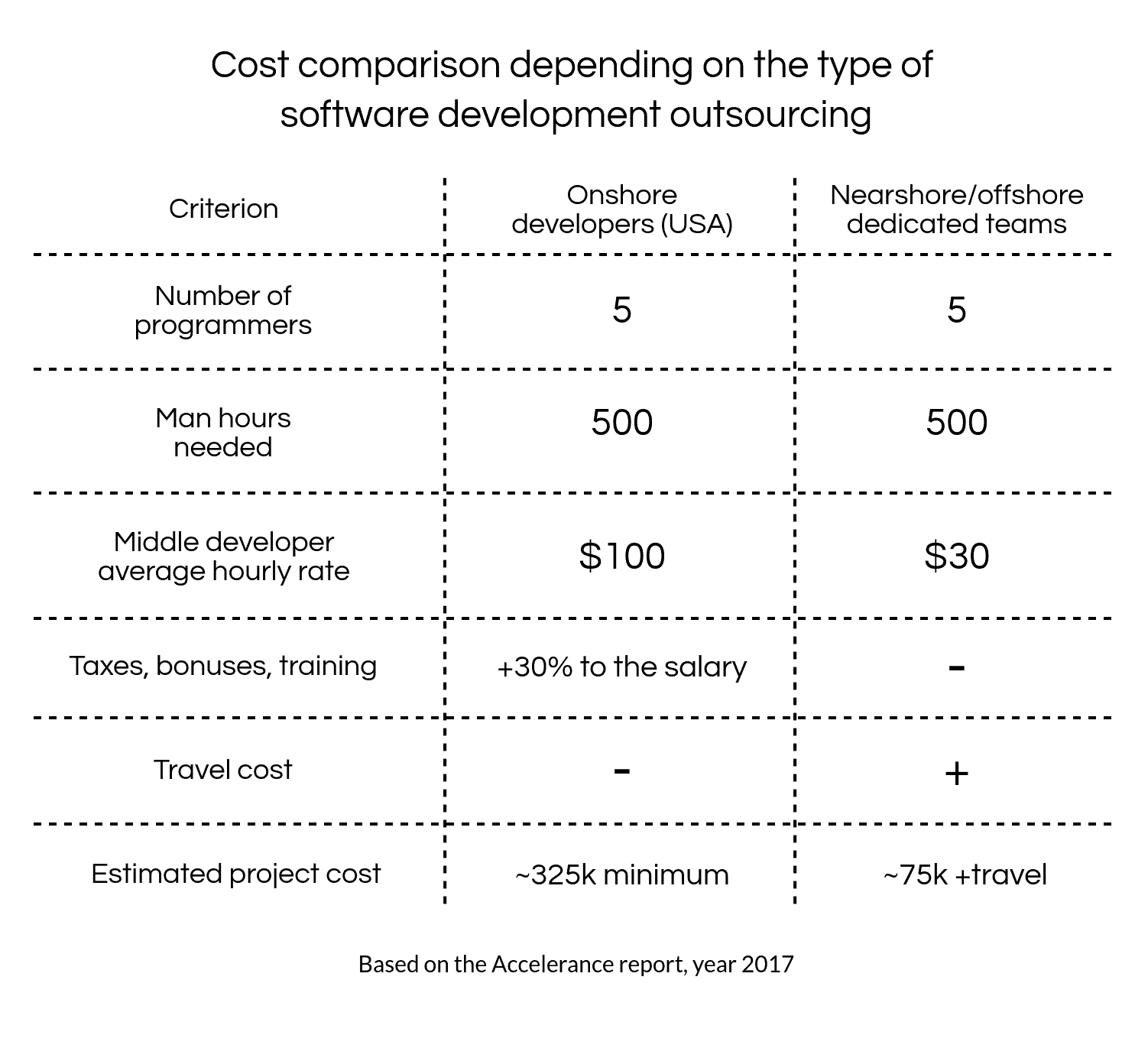 Usually, the price may differ from country to country as well. Even though you can choose the best deal in the form of offshore outsourcing development, you may still be a bit overpriced. In terms of every country's own economic progress and stability, salaries of developers vary. That is why it is hard to define a very precise rate of software outsourcing for a whole continent. Notwithstanding this, we will try to highlight the approximate numbers for different parts of the world. As you may have understood by now, the whole deal requires a good research and comparison. Now, let's move on.
LOCATION DEFINES OUTSOURCING DEVELOPMENT COST
North American and Australian dedicated teams
It is not a surprise that the US, with its Silicon Valley, is considered as a tech hub full of IT specialists of any kind you may imagine. Starting from web-developers and ending with network communication architects, this region offers high-quality services which are considered one of the best in the world. With that opinion also comes the notion of high pricing and this is the reason for many geeks wanting to relocate to the abovementioned area. For the American companies, however, pricing may be a bit biting, but the quality usually prevails in the list of values, so it frequently becomes the reason why American companies tend to think twice before outsourcing development elsewhere. On the other hand, lots of those companies do pursue the dream of reducing their costs on development processes, and achieving this will only be possible if they hire a dedicated team from another country.
In case European and Asian clients want to outsource the project to the US, they have to deal with the average cost of a professional service in the size of $100 hourly, which appears as a ridiculously big price. This is why this type of deals happens quite seldom. Australia can also be mentioned here, for developers of the latter are charged only 10-15% less than American ones.
Software outsourcing to South America
Couple of years ago this region couldn't be considered as the one with lots of professionals, especially in the tech field. These days such countries like Mexico, Columbia, Peru, and Argentina are "producing" more and more professionals in IT by giving them better education and more job places. Comparing to Central European prices, Latin America may be considered a good bargain for American companies as a nearshore type of outsourcing, suggesting the average developer's salary in the size of $35 hourly. Sometimes the US also chooses countries of South America, owing to cultural similarity, quite good English language and proximity of dedicated teams. Still, there is an opinion that developers from there tend to work at a slow-paced tempo, which often doesn't fit North American clients. For European and Asian clients, outsourcing to Latin America won't make sense in terms of pricing and product quality similarities.
Outsourcing development to Western Europe
This area of the world deserves its own separate research in terms of how different prices may be here. For example, software developers in Norway tend to earn almost like American ones, being averagely paid $70-90 per hour, while in Germany the price can be $40-55 hourly, which is almost 40% lower. This is the reason why since recently, Germany is developing as a European startup cluster. This is why the average developer's salary in Western Europe is quite a vague number of $35-65 per hour.
Eastern European dedicated teams
Countries of Eastern Europe had already been explored by us previously. Check our infographics on the comparison of IT outsourcing rates for the years 2009-2011 in order to have a good idea of how things have changed over the years. Even though Eastern Europe is in the proximity to the Western one, it doesn't mean they have the same rates. On the contrary, the price for the same type of work can differ a lot. While Belgium programmers are paid approximately $50 hourly for the software development, Ukrainian ones are valued $25-30.
Do not be too incredulous though, because the quality of provided services is considered quite high. Thanks to serious and profound physical, mathematical and technical education, Post-Soviet countries provide the whole world with professionals, who can work with hardcore coding, difficult data analysis, and hardware architecture. As a cultural peculiarity, people from Eastern Europe tend to appear very determined and curious about technological innovations, therefore fastly adapting to newest techs. For the last several years Ukraine shows very good results on the worldwide hackathons, which proves their level of professionalism over and over.
Software outsourcing to Asia
Another huge area of the world to explore in terms of outsourcing rates is Asia. The services of Indian developers are considered the cheapest ones in the whole world, averagely earning only $5k for the whole year of working, while developers from China earn $50k yearly. Of course, sometimes with the cheapest solution also comes a low-quality product. Don't be too prejudiced about Asian developers though, because usually they are doing quite a decent job. American and European clients tend to hire dedicated teams from Asia, especially last couple of years, since this solution cuts the cost of development on ~30%.
SOFTWARE OUTSOURCING IS NOT JUST ABOUT FINDING GOOD DEVELOPERS
We've made the table, in order for you to grasp the difference even better and have a very convenient visual comparison of the pricing for outsourcing all over the world. It includes crucial tech positions so that you could have a clear understanding of how rates of developers, PMs, BAs, and designers change depending on their obtained qualification.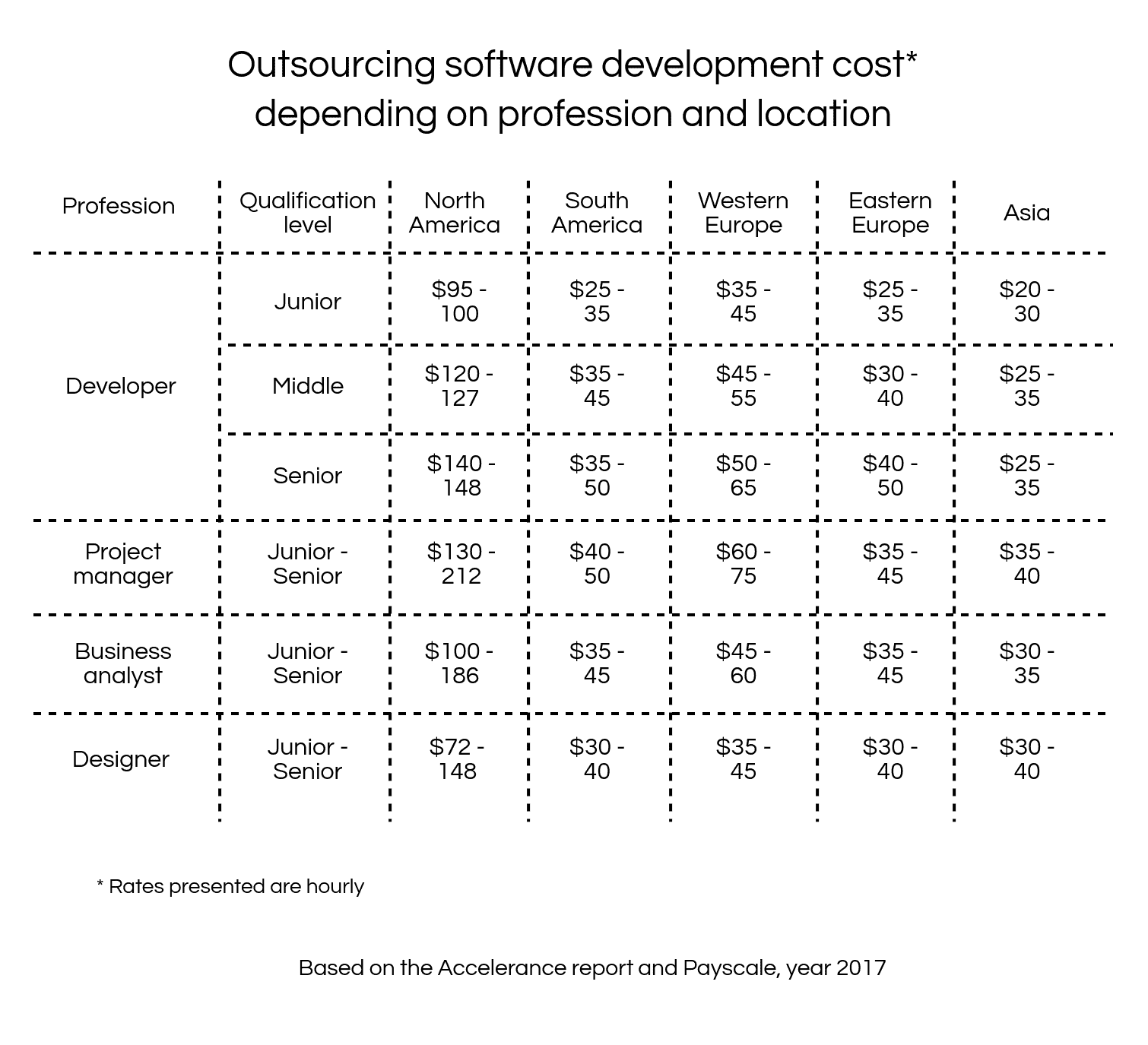 As you can see, depending on the location of the IT company or a developer himself, the price may vary, sometimes even dramatically, as we could see on the example of USA and India. However, clients always want to receive high-quality end products without thousands of editings during the process. They want it to be simple, but perfect, and this goal requires experienced developers with Middle-Senior expertise. Adding to that, dedicated teams are usually required to work like a shot, but accurately, which demands a more extensive budget. We hope that this article will help you to decide on the location of your future dedicated team. In case you got interested in the high-end product from pro Ukrainian developers, contact us!
---
Software Development Outsourcing with QArea
---