Quality Centered. Customer Obsessed.
Come for the speed and quality, stay for the polished workflows and responsible engineers. We're not the biggest, but we are best-in-class. QArea the only mid-sized outsourcing company in Eastern Europe with a CMMI-DEV Level 3 appraised team. We ensure that our clients only work with mid- and senior-level engineers, each of which has been with QArea for an average of
78%
Returning Clients
Most of our clients prefer to improve current software and launch new projects with QArea.
84%
Employee Retention
Our developers and QA engineers have been working with QArea for an average of 6+ years.
93%
Experienced Staff
We only hire Junior engineers when a senior-level mentor is available for 1-on-1 mentorship.
Do you care about quality? Run a test project with QArea to see if we're the right fit!
Get in Touch
From Canada to Australia
We've crafted digital products for companies around the world. Our clients come in all shapes and sizes – from startups, to international enterprises. Where do you fit in?
United States
United Kingdom
Canada
Germany
Australia
Israel
Ukraine
Belgium
Spain
UAE
Saudi Arabia
Netherlands
Fiji
Switzerland
Romania
France
Austria
Turkey
Italy
Lebanon
Luxembourg
Norway
Argentina
Cyprus
Czech Republic
Singapore
Denmark
Estonia
Ireland
Japan
Jordan
Kuwait
Latvia
Lithuania
Malaysia
New Zealand
Poland
Thailand
Our Leadership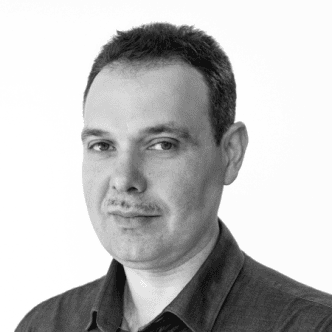 Maxim Zorian
President and Founder
21 Years of Experience
High-level expertise in management of software testing and development of cross-platform client-server applications. Member of many international business communities.
Dmitry Barbashov
Chief Technical Officer
15 Years of Experience
Extensive experience in software development, project management, and team leadership. Expert in desktop and server software programming, management, system integration.
Oleg Sivograkov
Chief Operating Officer
17 Years of Experience
An expert in project management, business development, and optimizing workflow efficiency.
Vita Moiseenko
Human Resource Development
11 Years of Experience
Experience in recruiting, team expansion, strategic staffing, and human resource management. Vita helps build the QArea team and works to ensure our high employee retention and job satisfaction rates.
Victoria Voloshina
Head of QA
10 Years of Experience
As the Head of QA, Victoria uses her broad technical background and strong knowledge of quality assurance processes to tackle the most challenging projects with the latest software testing tools and techniques.
Alexey Dubinka
Head of Web Development
10 Years of Experience
Experience in web development and system architecture. Alexey possesses great leadership and organizational skills that his teammates consider invaluable to their own productivity.
Vitaliy Babchenko
Head of Mobile Development
10 Years of Experience
Experience in back-end and front-end development. Over the course of his career, Vitaliy has put his focus on front-end mobile products and developed good team lead skills in the field.
Vitaliy Kamyshev
Head of DevOps
12 Years of Experience
Experience in system administration, development operations, and cloud computing. Vitaliy focuses on the flexibility and scalability of every software solution that he encounters.
Nikolay Pivovarov
Head of Delivery
14 Years of Experience
Expert in the development and delivery of large-scale, complex, digital solutions.
Maxim Levitsky
Head of Customer Success
8 Years of Experience
Focused on business consulting and effective management of sales and presale processes. Max has helped QArea establish strategic partnerships and build great products with numerous SMEs and enterprises around the world.
Company life
From comfortable offices to corporate sports teams and friendly competitions — we strive to create the perfect environment to build and create. This ensures the comfort and security of our team as well as the stability and reliability of development processes on our clients' projects.
Mentorship & Education
Every employee receives 1-on-1 mentorship from our Senior engineers. Our weekly tech talks help every member of our team become well versed in niche technologies and intricate development processes. We strive to create an environment of growth and personal development for each team member!
Personal Development
he growth of a single team member means growth for the entire QArea team. We help all employees with personal development, covering expenses for English courses, development and QA courses, professional certifications, and leadership seminars.
Why QArea
Start fast. Finish with confidence.
We want you to find a team quickly and get straight to turning your vision into a reality.
100% Transparency
Clear and consistent communication, flexible pricing, and full dedication to your success.
Excellent Code Quality
Beyond QA, we ensure your code is clean and free of technical debt.
Cross-domain expertise
There's no challenge we can't handle with confidence and great aplomb.
Our history
Looking back at our achievements, milestones and the things we draw inspiration. Milestones and the things we draw inspiration.
2001
QArea Established
QArea's first office is opened in Kharkiv.
2005
Growth Spike
QArea reports the 49% revenue growth, 34% increase in staff
2006
Skype
QArea completes testing and QA project for Skype
2006
Lviv Office
QArea expands and opens their first office in Lviv, Ukraine
2008
Microsoft Partnerships
QArea becomes a certified Microsoft partner
2008
HuffPost
QArea helps Huffington Post build their new website and back-end solution.
2009
Skyhook
QArea completes SDK development for Skyhook
2011
Drupal
QArea becomes a member of the Drupal Association
2015
Top Ukrainian Company QArea is listed as Top Web and Software Developers in Ukraine by Clutch
2016
Distractify
QArea helps develop, test, and launch the viral website Distractify
2017
Kyiv Office
QArea opens its new office in Kyiv, Ukraine
2018
CMMI
QArea's team is appraised at CMMI-DEV Level 3
2019
ISO
QArea's team receives ISO 27001:2013 Certification
Get a quote today!


Enter your project details.