We create software that melts seamlessly in your operations
By choosing QArea as your technical partner you get access to 280 accomplished software development experts that we already interviewed and approved for hiring. We keep our standards high when it comes to work and inspire our clients to never settle for less.
16+
Skilled Engineers
Our Middle- and Senior-level C++ developers would be happy to take part in your project.
16+
Projects Delivered
Let our portfolio speak for itself! We invest great effort and expertise in every project we get to work on.
15+
Years of Experience
We started our practice with C/C++ programming languages right after QArea was founded.
Tech Stack
The QArea team employs software engineers with narrow tech focus that altogether can cover the needs of even the most complex software project.
How to Get Started
Quick intro
Fill in the form on this website to start a conversation about your project.
Define your goal
We'll set the project objectives that will later define its scope and technology stack.
Meet your squad
We will form the full-cycle team to make your project plans come true.
Work starts now
Only after you approved the team, we get to designing and coding.
Your business issues are our challenge. We use C++ for creating software solutions that change companies for the better.
Get in Touch
Benefits of C++
Development with QArea
QArea is an award-winning IT company with a reputable brand name in Eastern Europe and even globally.
Our team will adjust to your professional routine from working hours to communication channels.
03
Transparent partnership
We keep our work as accessible as possible, so you can check how the project's doing anytime.
We put quality over everything else in software development, which means we'll make your product flawless.
We manage all the aspects of software development, from equipment to system administration and HR management.
06
Trial period for start
Test our team first to make sure you are satisfied with our performance and approach to programming.
Knozen
QArea helped create a positive and upbeat social game for iOS. Knozen is a fun, interactive social network application that helps users find out more about each other through answering humorous questions about their friends and coworkers and rating each other's personalities.
Read more
Technical partner your business can rely on
What our clients say about us
We think of ourselves as highly as our clients rate our services. This explains why client satisfaction and software quality are so important to the QArea team ― we truly care about the value our solution brings people who get to use it.
"The team did excellent work and I was very happy with everyone we added to the project via QArea. Together we built a custom video CMS in Django and native apps for iOS and Android powered by json feeds from this CMS."
"QArea has shown to have very competent resources, and have delivered the quality that our team was expecting. Concerns arose over time (that's expected) but you have always been very proactive in resolving them. "
"QArea has consistently delivered quality product for us and have been very accommodating when we were on tight schedules to complete our projects on time. We look forward to our continued development efforts with their team. "
"QArea has played a critical role in the development of HuffingtonPost.com. They have been able to become a part of the core team very quickly and develop amazing features that perform under the highest performance and demand requirements possible."
"The team were extremely responsive, with a quick turnaround, excellent client communications and have the flexibility to adapt to new requests. Responsive design can present a number of challenges but QArea were up to it and found the right solutions to meet our needs."
"QArea was able to assist us with the design and development of a brand new site that our customers love. Because we have a CMS now, we can manage many aspects of the e-commerce site ourselves. Their team is responsive and professional and we always felt like our new site was in good hands. "
Fast and Feature-Rich: C++ Software
Modern software solutions are required to have it all: immediate response, a wide variety of functions, eye-catching design, and ability to solve at least one real-world problem. In QArea, we don't settle until the project meets all of these, and so will yours if you order it from here.
Estimate a Project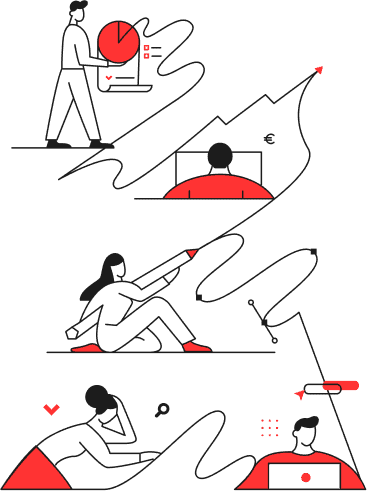 Full-cycle software development teams
Project Manager
If you'd rather focus on the big picture, hire an experienced project manager to take care of your software development. QArea's processes are appraised at CMMI-DEV Level 3. We excel at everything from planning and scheduling to progress tracking and workflow optimization.
Business Analyst
We have the right people to help point your project into the most profitable, future-proof direction. Through rigorous research and detailed documentation, our experienced business analysts will help you refine the project requirements and improve business processes.
UI/UX Designers
In addition to equipping your software solution with a powerful backend, you need to make your frontend visually attractive, interactions intuitive, and user journeys as enjoyable as ever. If you need help designing an appealing UI and captivating UX, we have the right people for the job.
DevOps Engineers
The ability to reduce the time needed to integrate changes while improving the quality is a great competitive edge to have in today's software market. We employ best CI/CD practices to minimize the number of errors during integration and deployment to streamline your project.
Testing and QA Teams
From meticulous manual testing to writing complex automated testing solutions, our bright QA engineers and scrupulous testing teams will make certain your software solution is free from any performance, stability, or functionality issues.
Request Specialists
Why QArea
We're fast
After you fill in our contact form, we'll get back to you with a rough project estimation in a few days.
QA geeks
The quality of your app is our reputation, so we do not take software quality testing lightly.
Clean code
We don't hire random developers which keeps our codebase free of random lines in it.
Lifetime support
We will continue supporting your software even after the main work is done.
Get a quote today!


Enter your project details.