Tools you can rely on. Quality we can vouch for.
We can vouch for the quality of our content and business management tools because our entire business (including this very website) runs on software and systems we've tailored to our own needs. Our experience doesn't end there. We tailored the platform that HuffPost runs on. We've customized CRM suites for businesses in the eCommerce, FinTech, and Hospitality sectors. We've created ERP systems that have helped startups grow into global leaders. Now, we're ready to give your business the tools it needs to succeed.
19+
Years of Experience
We've spent years perfecting our approach to software development and achieving client satisfaction.
280+
Skilled Engineers
No one person can do everything, but we have a team of skilled engineers that can do anything.
500+
Global Clients
Over the years we've built websites, apps, and software suites for clients all around the world.
Business
Management Tools
Every business and employee relies on tools to get their work done. We see it as our job to tailor those tools to the needs of the business and the individual. We can help you customize an open source ERP system like Odoo, integrate third-party software into your CRM suite, and simplify your content management with a new CMS.
Let's empower your business
Get in Touch
Describe the tools your business needs. What needs fixing? What needs to be built from scratch?
Define Objectives
We'll come up with a quote and start assembling a team based on your technical requirements.
Meet your team
We will handpick the best CRM, CMS, and ERP experts and introduce them to you.
Get to work!
Your all-star team has been assembled. Your objectives have been defined. Let's get to work!
A well managed business is a smooth running business. Build your ideal management tools.
Get in Touch
We go above and beyond
We provide more than development services. Our analysts can look at your business and help you make the right choice about the tools and software that can help your processes run smoother.
02
Internal mentorship programs
No matter who is on your development team, our company's most experienced, senior developers are ready to jump in and provide help and guidance on your project at no extra cost to you!
03
Transparent quality monitoring
Everyone who works with QArea benefits from our use of proprietary code-quality tracking software. At every stage of development you will be able to receive a report on your project's code.
04
Flexible workflows and processes
Our highly experienced specialists will effortlessly get in sync with your team and contribute to the optimization of the development processes to achieve maximum efficiency on your project.
05
Fast resource replacement
We vouch for every developer and every QA engineer, but should you want to replace somebody on your team, we will be able to help you with this instantly, at no extra cost to you.
06
Smooth knowledge transfer
All processes, tests, and workflows are thoroughly documented. Every ERP, CMS, or CRM we deliver comes with clear tips on how to use it best to achieve your business objectives.
Cannabis Exchange Platform
In the countries where cannabis production has been legalized, there's a lack of specialized high-quality software which minimizes the need for human labor use. The idea behind this fully-fledged web platform is to cover the needs of cannabis production and retail on a narrow and highly regulated market. The service helps to manage and operate the business from the very first steps to the full-cycle cannabis production.
Read more
Perx
Perx is a mobile client that helps users keep track of their shop and restaurant royalty cards while simultaneously giving businesses a powerful client relationship management tool. It is the #1 customer loyalty tool in Singapore that helps businesses boost their revenue and marketing ROI.
Read more
Client Testimonials
We are customer obsessed. Our goal is to turn even the smallest projects into a positive experience. First, we respond to our clients' needs quickly. Next, we deliver impressive development services. Finally, we ensure that every client thinks of us the next time they need to build a new project. Here's what our clients say about us.
"The team did excellent work and I was very happy with everyone we added to the project via QArea. Together we built a custom video CMS in Django and native apps for iOS and Android powered by json feeds from this CMS."
"QArea has shown to have very competent resources, and have delivered the quality that our team was expecting. Concerns arose over time (that's expected) but you have always been very proactive in resolving them. "
"QArea has consistently delivered quality product for us and have been very accommodating when we were on tight schedules to complete our projects on time. We look forward to our continued development efforts with their team. "
"QArea has played a critical role in the development of HuffingtonPost.com. They have been able to become a part of the core team very quickly and develop amazing features that perform under the highest performance and demand requirements possible."
"The team were extremely responsive, with a quick turnaround, excellent client communications and have the flexibility to adapt to new requests. Responsive design can present a number of challenges but QArea were up to it and found the right solutions to meet our needs."
"QArea was able to assist us with the design and development of a brand new site that our customers love. Because we have a CMS now, we can manage many aspects of the e-commerce site ourselves. Their team is responsive and professional and we always felt like our new site was in good hands. "
Manage your business. Boost your revenue.
The secret of increasing your bottom line is spending more time on creating value and less time on daily minutiae. Build the tools you need to make that happen.
Let's Talk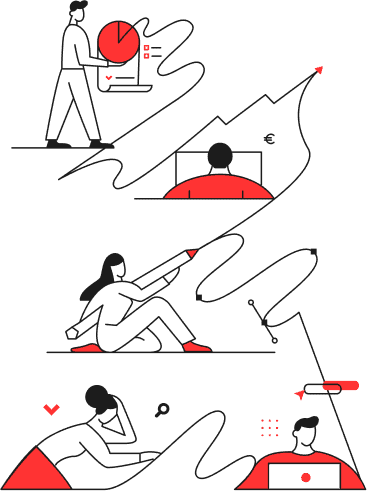 Full-cycle
development teams
Project Manager
Eliminate the need to manage your development process by working with highly qualified project managers from within QArea's roster of talented developers and QA engineers.
Business Analyst
Go beyond development and QA requests and enlist our business analysts to find new, unconventional ways to empower your business with new software and give your business a competitive advantage.
UI/UX Designers
Good code and functional interfaces are great, but it's good design that helps create a positive overall impression of your business. Our skilled UI/UX designers will ensure the straight-forwardness and attractiveness of your software.
DevOps Engineers
Every idea starts with wireframes and ends with deployment. Our DevOps engineers will ensure that your servers and software architecture are ready for your first release!
Testing and QA Teams
Our bright QA engineers and scrupulous testing teams will ensure your mobile application is free from any performance, stability, functionality, and usability issues.
Request Specialists
Why work with us?
Start fast. Finish with confidence.
Our goal is to help you launch quickly and make sure you'll want to work with us again.
100%
Transparency
Clear communication, flexible pricing, and full dedication to your success.
Excellent Code Quality
We check the quality of our code at every step of development.
Cross-domain expertise
Need services beyond content and business management? We will have you covered.
Let's get to work!


What tools does your business need?