Smooth QA.
Superb Products
Obsession with quality is at the heart of our QA-processes. As a team of skilled and passionate professionals, we will help you to deliver solutions that will meet the standards of the most demanding customers. We leave no room for bugs and ensure that the quality of your product remains high even when development moves faster.
800+
Projects Delivered
Our team helped more than 500 clients create functional, compatible, secure, and user-friendly products which help them grow their business quickly and easily.
180+
QA-engineers
Our team consists of qualified and experienced specialists with extensive knowledge in manual and automated testing for various types of software solutions across all verticals.
19+
Years of Experience
We've been developing and testing solutions for businesses of different sizes, from various industries, including healthcare, finance & insurance, entertainment, and e-commerce.
Quality Assurance
Technologies
We perform manual/automation tests and set up the QA processes from scratch to ensure the best user experience for your clients and users. Our QA specialists are armed with the latest tools and technologies (as well as 250+ physical testing devices) to ensure the exceptional quality and best test coverage of your product.
Selenium
JUnit
JMeter
Postman
Browser Stack
Fiddler
VirtualBox
Netsparker
How to Outsource Software QA
Get in Touch
Write to us and share the overall goal of your project as well as any questions you have.
Define requirements
The next step is to collect all the information needed to satisfy your project requirements.
Meet your team
Then we handpick specialists who will be responsible for the deployment of your project.
Observe the Process
We perform the tests to ensure that the bugs don't make their way into production.
Benefits of Outsourcing
QA with QArea
01
Equipment Rental Included
We offer up-to-date devices that allow you to meet your project requirements, including 250+ physical devices to ensure thorough test coverage across all platforms.
02
Internal Educational Courses
Our internal educational program ensures that our QA-specialists are true experts in their field and follow the latest tech trends.
03
Strong Technical Supervision
Our senior-level professionals are ready to jump in to help your team with solving any tech issues or making any decision on your project at no extra cost to you!
04
Transparent Code Monitoring
We have an organized, smooth, and transparent code review process to ensure your confidence in the quality and reliability of your software project.
05
Flexible Workflows & Process
Our QA-processes are well-defined and efficient, but we can quickly adjust to the workflow your business needs.
06
Fast Change of Resources
We handpick the best engineers for your project's team. Should any problems arise, we can quickly replace team members or supplement your team with new experts.
Skype Click to Call
Skype calls right away from the browser? Easy. We provided Skype with a wide range of comprehensive testing services to ensure that their plugin Skype Click to Call works as intended across all popular platforms and browsers. Now our customer knows that their users can contact friends, business partners, or organizations quickly and more comfortably.
Read more
Dashlane
Security is important for individuals as well as businesses. Our QA engineers helped Dashlane ensure that their password manager and digital wallet will remain fully functional on new versions of OS, browsers, and devices. Now our client knows that their solution works perfectly under all circumstances.
Read more
What Do Our Clients Say?
Each of our projects is very important to us. Our QA professionals never stop to develop their skills and improve the processes to ensure the best service to our clients. It seems like we are doing a good job as over 70% of customers return to us with the new projects. Take a look at what some of QArea's clients say about our work.
"The team did excellent work and I was very happy with everyone we added to the project via QArea. Together we built a custom video CMS in Django and native apps for iOS and Android powered by json feeds from this CMS."
"QArea has shown to have very competent resources, and have delivered the quality that our team was expecting. Concerns arose over time (that's expected) but you have always been very proactive in resolving them. "
"QArea has consistently delivered quality product for us and have been very accommodating when we were on tight schedules to complete our projects on time. We look forward to our continued development efforts with their team. "
"QArea has played a critical role in the development of HuffingtonPost.com. They have been able to become a part of the core team very quickly and develop amazing features that perform under the highest performance and demand requirements possible."
"The team were extremely responsive, with a quick turnaround, excellent client communications and have the flexibility to adapt to new requests. Responsive design can present a number of challenges but QArea were up to it and found the right solutions to meet our needs."
"QArea was able to assist us with the design and development of a brand new site that our customers love. Because we have a CMS now, we can manage many aspects of the e-commerce site ourselves. Their team is responsive and professional and we always felt like our new site was in good hands. "
Work with Us
Leverage our solid QA-expertise to launch high-quality products that will bring your business to the new heights.
Let's Talk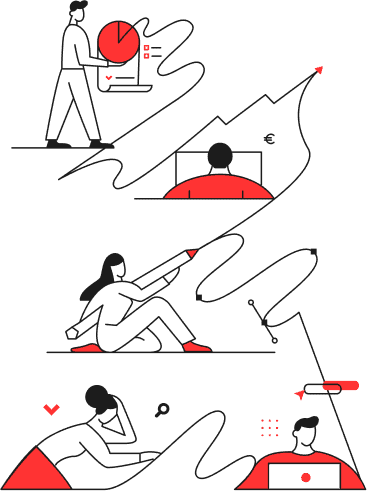 Software Development and Testing Teams
Project Manager
Plans, organizes, and controls the project as well as coordinates the team effectively to ensure that the risks are kept at the minimum level and results delivered on time.
Business Analyst
Defines the requirements for business processes from the provider and customer perspectives to recognize existing problems as well as find new opportunities.
UI/UX Designers
Creates software interfaces that meet the specific customer needs and bring an intuitive and distinct user experience.
DevOps Engineers
Designs scripts, tools, and tests; perform administrative tasks, as well as optimize solutions for operational processes to guarantee the smooth digitization process.
Testing and QA Teams
Uses the best software testing outsourcing practices and QA methods to confirm that the software is error-free and meets all the requirements.
Request Specialists
Why Clients Trust Us
Start fast. Finish with confidence.
Our goal is to help you launch quickly and make sure you'll want to work with us again.
100%
Transparency
Clear communication, flexible pricing, and full dedication to your success.
Excellent Code Quality
We check the quality of our code at every step of development to ensure best results.
Cross-domain expertise
Need services beyond software testing and quality assurance? We will have you covered.
Let's get started.


Enter your project details.