This application helps people to navigate through disease-related pools of knowledge and gives precise information about:
the diagnosis process,
treatment options,
patient education videos,
grants access to centers of excellence,
has a built in glossary of terms and more.
As an addition every slightest aspect was purposefully brought to them with maximum friendliness and is astonishingly easy to be understood.
Challenge
Our designers were tasked to create a friendly, intuitive solution designed with end-users as top-priority. Considering target audience of the app can vary in age and gender and are not narrowed down to a certain group with particular preferences the challenge has gotten even harder.
Solution
Backgrounds, icons, looks of functionality and all other elements of the application were designed to precisely meet the requirements. A friendly color pallet was chosen that has a rich calming effect.
Navigation and functionality elements were graphically displayed in a manner where all is quite intuitive and highly understandable. Buttons are large enough for easy tapping, yet are not too big.
Everyone, from a young child to an elderly person is capable of using the app and enjoying its simplicity and style.
Conclusion
Lung Cancer Foundation application has managed to assist thousands of people in need for more knowledge, support and assistance.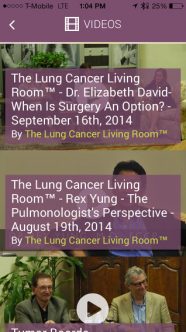 Industries
Tools and Technologies
Link
Ready to start your success story?
Address
Guiseppe Cali street Ta'Xbiex, XBX, Malta