Top-8 Web Design Trends of 2021
by Dima Riabukha on Jun 17, 2021
This post was originally published on hackernoon.com
Minimalism, 3D graphics, gradients, textures, and animation ― we've seen them all in 2020, but the upcoming year is giving the common design trends a new twist. New styles and standards, stronger emotions, and deeper engagement.
In 2021, web design continues to become more user-oriented. UX and UI still complement one another forming the development trends for digital products. User Experience makes design more and more intuitive, functional, and predictable. User Interaction helps to make every point of contact with software design more pleasant creating an impression of interpersonal communication.
A recipe for a good web design in 2021 looks like a combination of predictability and "wow" effect, proven patterns and vivid accents, simple interfaces, and aesthetic enjoyment of a user.
But what are the particular trends defining the quality standards for web design in 2021? Let's explore them by analyzing some fresh contributions to the Dribble design community.
Every showcase was published less than 6 months ago. That's why this article is not just someone's personal opinion but an up-to-date demonstration of the opinions of top web designers. Let's go!
1. Aesthetic minimalism
Minimalism and well-organized setups are the basis of any modern digital product. Even if a website does not seem minimalistic, it still is, at least on the UX level. In this context, minimalism never goes out of style, just like the good taste.
In 2020, minimalistic websites became more frequently seen, and this trend continues to grow in 2021. Many massive fashion, eCommerce, and other brands have set a course towards minimalist design in their software, including Apple, Ikea, and Mastercard.
The fast pace of modern marketing communications also supports the minimalistic approach to UI/UX design. In the past, if a user couldn't comprehend a message in 3 seconds, there was no message at all. Minimalism solves this issue.
Modern minimalistic sites instantly create an impression of simplicity mixed with reliability. A glance at such a website is enough to recognize the brand, read the message, and get the target action. High comprehensibility is what any digital product strives for. That's why this trend won't lose its popularity anytime soon.
2. 3D graphics
Modern 3D graphics look spectacular and classy. It vividly shows the quality of a product as well as the technical skills of the team that created it. That's why many people started choosing 3D design more often and as 2021 arrived, we can tell the 3D graphics trend is here to stay.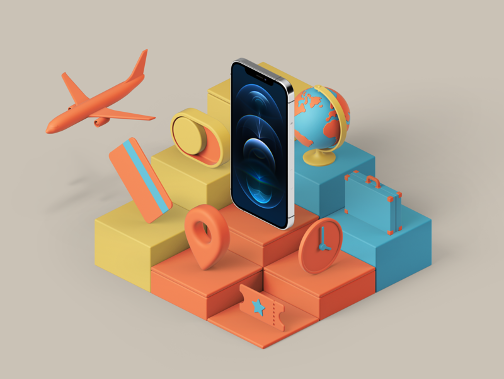 The evolution of 3D modeling programs makes graphics more complex. Voluminous illustrations of 2021 have many components and small details and are far more sophisticated compared to what we've seen in the past.
The quality of drawing also increases. Modern 3D elements look dynamic which makes a truly lasting impression on users. The volume of 3D makes illustrations look almost touchable capturing people's attention and giving them real aesthetic enjoyment.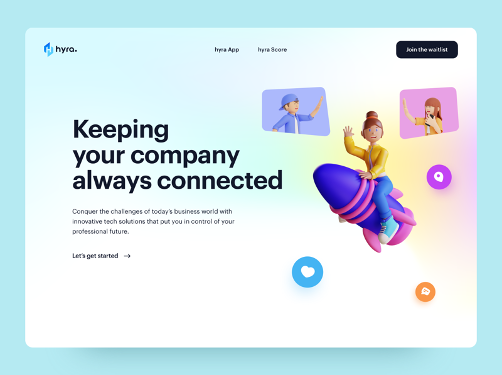 3. Realistic textures
Driven by the evolutionary development of 3D graphics, texture detailing became a new stand-alone trend itself. Voluminous elements of today look so realistic because designers started paying more attention to lifelike textures. Glass, metal, plastic, wood, and stone ― all that can be drawn in 3D.
In 2021, we can break down any mechanism into pieces and turn them into illustrative elements copying all the edges, holes, bumps, and other details. Realistic textures in 3D help to create eye-catching sceneries useful in any business sector, from finance and healthcare to fashion, technology, etc. Dimensional figures look fresh and live.
4. Advanced gradients

In 2021, gradients became more complicated. The new advanced gradient combines several color palettes and overlays application methods. Such a gradient can make a digital product not only unique but also highlights its technical complexity and innovation.
Nowadays, gradients are mixed with 3D graphics, glass morphism, transparency, and shadows. Gradients can be used as a main stylistic figure of a website or as an accent for some elements. Such techniques always look eye-catching, vivid, and dynamic.
UI/UX designs with gradients make the digital product stand out from standard corporate sites. Just don't forget about the sense of proportion, as gradients are tools for web design, not its essence.
Expert UI/UX Design Services
5. Micro-interactions
Micro-interactions are a small yet critical part of a digital product. They make user's interaction with the product closer and create an illusion of interpersonal communication. This takes the user's engagement with the product to a whole new level. Instant reactions to user's actions, even something as small as a cursor move, make people feel as if the software is alive and communicates with them. Adding to positive emotions, micro-interactions create a great atmosphere to start acting on the site, for example, make a purchase.
Hotjar map research shows that micro-interactions drastically increase the conversion rate of CTA elements on a website and its average page depth. Namely, small pleasant interactions greatly increase the number of emotional purchases. The gamification element makes it easier to click on target buttons and take the purchase more positively.
6. COVID Illustrations – Still 🙁
Unfortunately, COVID-19 is still here, even in 2021. This means the last-year trend for antivirus illustrations doesn't go anywhere as well.
The virus disables the communication between businesses and their customers, which has to be reflected in the digital space. Therefore, the need for coronavirus-related images will remain high in 2021. No matter how tired we are of this theme, web design highly depends on current global affairs, and COVID-19 still makes headlines. If there's a request, somebody's going to fulfill it.
7. SVG icon animations
It's been about five years since SVG icons and animations were called trendy. But in 2021, it finally made it to the average business websites. Meaning, it is now a global quality standard. Looks like other kinds of icons no longer exist!
Designers use SVG due to practical reasons. The icons' scalability does not compromise their quality, the form and color scheme can be easily changed, and the animation is simple as well. In general, web design with SVG is fast, comfortable, and low maintenance. The end result turns out high-quality and usable, which are the two important characteristics of a web design solution.
8. Motion
Started as a fun option, animation transformed into a must-have for modern digital products. The vast majority of top software products have already adopted motion graphics and continue expanding the use year by year.
Motion design simplifies the perception process, and who doesn't want to get things faster and clearer? Websites with animations look more vital and friendly, and ― most important ― demonstrate a higher conversion rate. High-quality motion graphics drives sales, and that's enough to keep this design trend popular in 2021. The current approach is to simplify the content of information but put it into an aesthetically pleasing form.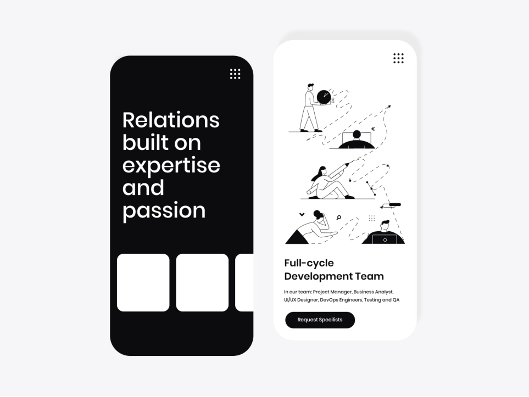 Wrapping up
The web design quality standards of 2021 base on the last-year trends, but each of them is getting a fresh twist.
The minimalism aesthetics continues to be relevant and acts as the basis for a combination of advanced design solutions. Designers simply take proven minimalism and overlay it with something popular.
The 3D graphics trend is still big, but this year it's more sophisticated and spectacular. Thanks to texture detailing, objects on the screen look just like in real life, if not better.
COVID illustrations have become another long-lasting trend ― they are in demand, which means they are here to stay. More additions to the list include animation and micro=interaction trends. Last year, these types of motion graphics showed their effectiveness for usability increase, therefore will remain relevant in 2021.
Looking to make every interaction with your product convenient and enjoyable for your users?
Let us assemble a dream team just for you!