Flawless Performance.
Great User Experience.
React is a JavaScript library with a component-based approach and well-defined lifecycle for building user interfaces. It's utilized to create dynamic web applications and high-end mobile solutions. React features great performance, stability of code, and interoperability with other systems. Today React is a widely used technology adopted by giants like Facebook, Netflix, and Dropbox.
30+
Skilled Engineers
Whether you hire one or 10 React developers, we guarantee that you will be working only with Middle and Senior level engineers.
35+
React Projects
With years of experience and 35+ delivered React projects at QArea alone, our developers can handle projects of any complexity.
7
Years of Experience
Our most experienced React engineers were early adopters of the library and started implementing its features as early as 2013.
Tech Stack
When building robust front-end solutions, we don't limit ourselves to React. Our engineers are experts in a wide range of progressive technologies, programming languages, and tools. We have broad domain expertise and can help pick the right tech stack for your business needs.
React outsourcing step by step
Get in touch
Tell us about your front-end development needs and we will take care of the rest.
Define requirements
We will talk through all the necessary details, identify all tech specs and requests.
Meet your team
We will handpick a development team that fits your needs best and start on your project at once.
Prepare to deploy
Your project will be delivered on time and within budget. Implement and prosper!
Benefits of React
Development with QArea
01
Internal Educational Program
Our front-end developers are always top of the class thanks to our internal educational courses. Their expertise goes far beyond following the latest tech trends.
02
Instant Resource Replacement
We handpick the best developers for your project, but with a roster of 280+ engineers, we're always ready to change your development lineup.
03
Transparent Code Monitoring
We have a quick, smooth, and transparent quality assurance system. Rest assured, not a single line of code will go unchecked.
04
Tailoring Processes if Needed
Every project and business requires a unique approach. We default to Agile but have extensive experience in working with Waterfall, V-Model, Spiral, etc.
05
System Administration Included
We provide system administration services at no extra cost to you. You can be sure that your business systems run efficiently and IT management costs are optimized.
06
Trial Periods for New Employees
When new developers join your team, you can run a short pilot project with the candidates to be confident in their ability to meet your expectations and the project's technical requirements.
Avaaz
Usability is king. This is especially true for the project aimed at a worldwide audience. We built a stable, secure, and user-friendly platform for a client who promotes global activism. Now our client knows that their website can resist huge usage loads and deliver a positive experience for each visitor, no matter where they come from.
Read more
HuffPost
High traffic is both the main goal and challenge for the news websites. We helped HuffPost build a site and app that are incredibly convenient to use and capable of sustaining the heavy usage load. Having optimized the front-end and back-end of HuffPost, our client can be sure that their message delivery system can send 150,000 messages per second.
Read more
Our Clients Testimonials
We are customer obsessed, so it pleases us to no end that more than 70% of our customers return to our developers with the new projects. Our deduction to quality at every stage of the development process has paid its dividends in spades, helping us create long-term partnerships with clients from all over the world. Here's what they have to say about us:
"The team did excellent work and I was very happy with everyone we added to the project via QArea. Together we built a custom video CMS in Django and native apps for iOS and Android powered by json feeds from this CMS."
"QArea has shown to have very competent resources, and have delivered the quality that our team was expecting. Concerns arose over time (that's expected) but you have always been very proactive in resolving them. "
"QArea has consistently delivered quality product for us and have been very accommodating when we were on tight schedules to complete our projects on time. We look forward to our continued development efforts with their team. "
"QArea has played a critical role in the development of HuffingtonPost.com. They have been able to become a part of the core team very quickly and develop amazing features that perform under the highest performance and demand requirements possible."
"The team were extremely responsive, with a quick turnaround, excellent client communications and have the flexibility to adapt to new requests. Responsive design can present a number of challenges but QArea were up to it and found the right solutions to meet our needs."
"QArea was able to assist us with the design and development of a brand new site that our customers love. Because we have a CMS now, we can manage many aspects of the e-commerce site ourselves. Their team is responsive and professional and we always felt like our new site was in good hands. "
Ready? Hire. Go!
Let's get to work!
We're ready to start on your React project. Are you? Whether you're looking for a single developer or an entire full-cycle team, we're who you're looking for.
Get a Quote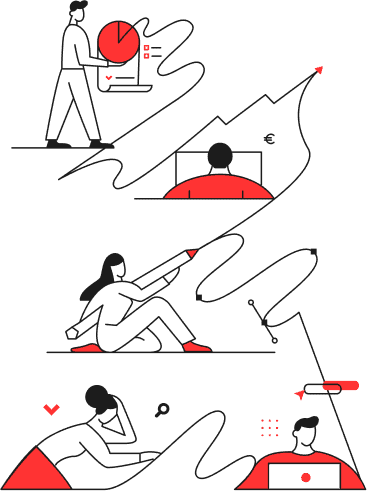 Full Scale
Development Teams
Project Manager
The project manager is responsible for the planning, implementation, follow-ups as well as effective work of the team to guarantee the smooth delivery of the project.
Business Analyst
The analyst identifies the main structures, processes, and principles of the business and develops the solutions for their improvement.
UI/UX Designers
A UI/UX designer plans and creates attractive interfaces in such a way that the user is directed to the destination as quickly and easily as possible.
DevOps Engineers
A DevOps engineer is responsible for ensuring that the software platforms support the company and its processes in the most effective way.
Testing and QA Teams
The main task of the QA team is to perform a complex check of the software being developed to ensure that it meets the specified requirements and works as it should.
Request Specialists
Why Choose Us
Start fast. Finish with confidence.
Our goal is to help you launch quickly and make sure you'll want to work with us again.
100%
Transparency
Clear communication, flexible pricing, and full dedication to your success.
Excellent Code Quality
We check the quality of our code at every step of development to ensure best results.
Cross-domain expertise
Need services beyond Front-End Development? We will have you covered.
Write to us.


Tell us about your project.