Fast Start.
Quality Code.
React Native is the ideal choice for companies that need a reliable mobile counterpart for their web-centered business. It will ensure that your application is fast, your UI renders quickly, and content is delivered to users without a hitch. Our engineers use the framework to its full potential, finding the single best way to implement the features your business needs to succeed.
10+
React Native Developers
We guarantee that you will work with only the most talented Middle and Senior-level React Native engineers.
15+
Projects Delivered
Our Agile approach and perfected workflows allow us to combine cost-efficiency with quick delivery.
5
Years of Experience
Since its release, React Native has been the framework of choice for many of our most demanding projects.
Our Technology
Expertise
React Native is one of the main development frameworks that we work with. Whether you need a native or hybrid application, a simple project or a complex enterprise suite with cross-platform capabilities — our team and engineers will have you covered.
Obj-C
Swift
Ionic
Cordova
Kotlin
How to Get Started
Reach out to us
Fill out the contact form on our website providing basic information on what you need .
Outline your goals
Now that we've connected and discussed the request, your personal manager will gather.
Meet your team
We analyze your request and provide you with a list of handpicked candidates best.
Get to work
Now that you've decided on your options for collaboration, the required specialists, their time.
Ready to take the first step towards your native mobile application? Because we're ready to code!
Get in Touch
Benefits of Mobile App
Development with QArea
01
Free trial periods for new employees
We provide our clients with the opportunity to have a test run with the candidates before they finalize their choice—for you to be confident we'll get the job done on time and within budget.
02
Transparent monitoring of code quality
When hiring from QArea, you get access to our proprietary tools that provide useful code quality metrics to help your project standardize the quality of code and maintain it on a high level.
03
Equipment rental included
You don't pay any extra for our specialists' workstations and the equipment they use. In addition, you get access to over 250 physical devices from smartphones to tablets to test your app.
04
System administration included
Don't think about anything but your project's success as we will take care of all the administrative and IT support—help you set up efficient communication channels, integrate project management tools, etc.
05
Tailoring QArea and Company processes when required
Our highly experienced specialists can not only get in sync with your team quickly and without effort, but help optimize the development processes to achieve maximum efficiency on the project.
06
Instant replacement of undesirable resources
We are very scrupulous when it comes to picking the best candidates for our clients' requirements. In case a discrepancy does happen, however, we provide a fitting replacement without delay.
Relations built on
expertise and passion
What our clients say about us
We are customer obsessed. Our goal is to turn even the smallest projects into a positive experience. First, we respond to our clients' needs quickly. Next, we deliver impressive development services. Finally, we ensure that every client thinks of us the next time they need to build a new project. Here's what our clients say about us.
"The team did excellent work and I was very happy with everyone we added to the project via QArea. Together we built a custom video CMS in Django and native apps for iOS and Android powered by json feeds from this CMS."
"QArea has shown to have very competent resources, and have delivered the quality that our team was expecting. Concerns arose over time (that's expected) but you have always been very proactive in resolving them. "
"QArea has consistently delivered quality product for us and have been very accommodating when we were on tight schedules to complete our projects on time. We look forward to our continued development efforts with their team. "
"QArea has played a critical role in the development of HuffingtonPost.com. They have been able to become a part of the core team very quickly and develop amazing features that perform under the highest performance and demand requirements possible."
"The team were extremely responsive, with a quick turnaround, excellent client communications and have the flexibility to adapt to new requests. Responsive design can present a number of challenges but QArea were up to it and found the right solutions to meet our needs."
"QArea was able to assist us with the design and development of a brand new site that our customers love. Because we have a CMS now, we can manage many aspects of the e-commerce site ourselves. Their team is responsive and professional and we always felt like our new site was in good hands. "
Have an idea?
Let's get to work!
Need a single engineer or an entire team of React Native experts? We're ready to prove ourselves to you. Run a pilot project to ensure our team is exactly what you're looking for!
Get a Quote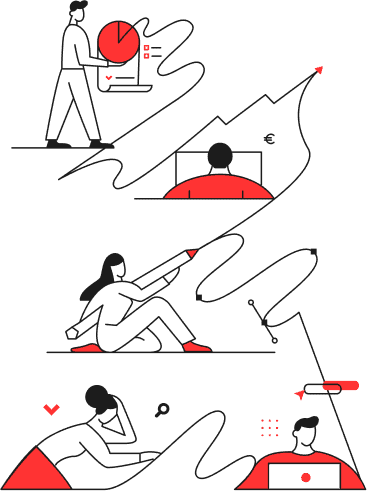 Full-cycle development teams
Project Manager
If you'd rather focus on the big picture, hire a project manager to take care of your mobile app development project. QArea's processes are appraised at CMMI-DEV Level 3. We excel at everything from planning and scheduling to progress tracking and workflow optimization.
Business Analyst
We have the right people to help point your project into the most profitable, future-proof direction. Through rigorous research and detailed documentation, our experienced business analysts will help you refine the project requirements and improve business processes.
UI/UX Designers
Extensive functionality isn't enough for your mobile application to be successful. You need to make sure it is visually attractive, intuitive, and provides enjoyable user journeys. If you're missing any of these essential components, our skilled designers can help you fix that.
DevOps Engineers
The ability to reduce the time needed to integrate changes while improving the quality is a great competitive edge to have in today's mobile app market. We employ best CI/CD practices to minimize the number of errors during integration and deployment to streamline your project.
Testing and QA Teams
From meticulous manual testing to writing complex automated testing solutions, our bright QA engineers and scrupulous testing teams will ensure your mobile application is free from any performance, stability, functionality, and usability issues.
Request Specialists
Why QArea
Start fast. Finish with confidence.
Our goal is to help you launch quickly and make sure you'll want to work with us again.
100%
Transparency
Clear communication, flexible pricing, and full dedication to your success.
Excellent Code Quality
We check the quality of our code at every step of development to ensure best results.
Cross-domain expertise
Need services beyond Mobile App Development? We will have you covered.
Ready to start?


Enter your project details.